Congratulations to "Joan V.", the winner in Jacki's giveaway. Thank you to all who participated!
On the surface, the holiday season appears to be one big happy celebration. TV commercials tug at our heartstrings with scenes of three generations gathered around a juicy golden turkey from the local supermarket or smiling friends toasting the occasion with an upscale brand of liquor. Retailers tug on our purse strings with Black Friday sales and Cyber Monday bargains so we can surprise our loved ones with the "perfect" gift. It's all home and hearth, parties and presents, tinsel and candy canes…or is it?
The holidays, especially Christmas, have served as a backdrop for the romantic suspense genre in both film and fiction for decades. While Christmas and criminals seem an unlikely combination, many writers and producers have successfully blended the two to create fast-paced thrillers and mysteries that have you sitting on the edge of Santa's lap.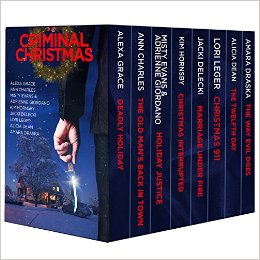 Think about John McClane, the hero of the movie Die Hard. While in L.A., he manages to rescue his wife when she's taken hostage during a Christmas office party. In the Home Alone film franchise, the young hero(s), accidently left on his own during the holidays, repeatedly combats bumbling burglars with comic results. Black Christmas, an indie film released in 1974, is about a slasher who terrorizes a sorority house during Christmas break.
Two of my romantic suspense stories feature mistletoe and mayhem. I wrote an exclusive holiday wedding scene for Marriage Under Fire, which is featured in Criminal Christmas, a box set of eight holiday suspense stories. Although not part of the original story, adding the winter wedding allows fans to reconnect with all of their favorite characters from the Grayce Walters mystery series amidst the love, romance and fellowship of the season. A Christmas Code, book 2 in the Code Breakers series, enabled me to incorporate historical Yuletide traditions, enriching the authenticity of this Regency espionage thriller.
For romantic suspense authors, the love, peace, joy and comfort of the holidays offer a sharp and vivid contrast to the terror, danger and peril of mysteries and thrillers. When everything you love most is at risk, it becomes that much more precious when saved by a clever hero and/or heroine.
Giveaway:
What is your favorite holiday romantic suspense film or book?

Comment for a chance to win a digital copy of Criminal Christmas or an audiobook version of A Christmas Code.
Jacki Delecki is a bestselling romantic suspense writer. Delecki's Grayce Walters Series, which chronicles the adventures of a Seattle animal acupuncturist, was an editor's selection by USA Today. Delecki's Romantic Regency The Code Breaker Series hit number one on Amazon. Both acclaimed series are available for purchase at http://www.JackiDelecki.com. To learn more about Jacki and her books and to be the first to hear about giveaways join her newsletter found on her website. Follow her on FB—Jacki Delecki; Twitter @jackidelecki. Her latest releases include the audiobook version of A Christmas Code, narrated by Pearl Hewitt, and Criminal Christmas, a set of eight holiday suspense stories for just 99¢.
Giveaway ends 11:59pm EST Nov. 17th. Please supply your email in the post. You may use spaces or full text for security. (ex. jsmith at gmail dot com) If you do not wish to supply your email, or have trouble posting, please email maureen@justromanticsuspense.com with a subject title of JRS GIVEAWAY to be entered in the current giveaway.