While I've loved reading mysteries and suspense novels for years I never thought I'd write one. I loved writing romance but I didn't think I could throw my characters into danger or craft a treacherous villain.
Then I went to the movies with a friend and saw the movie Ladyhawke. All I knew was that I wanted to write a book about two lovers that were separated by circumstances beyond their control. My agent read the book, called me and said "why didn't you tell me you could write romantic suspense?" My reply was "I didn't know I could". What can I say? Sometimes I'm a little clueless.
But I caught on fast and knew that if that book was a romantic suspense there was no reason why that would be my only one.
There is nothing like writing what you love to read. I enjoy crafting strong heroes and feisty heroines that can go toe to toe with them. A woman who isn't afraid to get her hands dirty if they're on the run. Tell me honestly, how many of you would be willing to go on the run with a sexy guy because your lives are in jeopardy, perhaps go without a shower for days, forget even having a chance to apply fresh lip gloss, and end up getting shot at? On the one hand, sexy guy. On the other, little sleep, lack of good hygiene for awhile, perhaps dodging bullets.
But if you knew in the end that guy would be all yours? It just might be worth it.
I also have fun coming up with the right villain for the book. It has to be someone who's equally strong, whose agenda works for the storyline and the kind of evil that makes the reader shiver want continue to turn the page to find out what will happen next. Villains can be tricky because you don't want to go over the top or they become laughable when that's not what's intended. What I like are villains that you'd never suspect. How many times have we seen on the news where neighbors say they'd never believe a person was a serial killer because they were willing to help a neighbor. Does that make you reconsider that man/woman living next door? That always smiling man who lives across the street?
Romantic suspense allows you to let your imagination roam freely. You can visualize the characters, their situations and surroundings and that they would be killed if they don't track down and catch the bad guy first.
In Double Jeopardy I wanted a man who was in danger from a stalker, but the woman he was falling for ended up as collateral damage. I've always felt the female is more dangerous than the male because we all know what we could be capable of if we walked on the dark side. And don't we women come up with the imaginative revenge methods? But would we be willing to break the law just to prove to a man we're the right woman for him even if he doesn't want us?
That's why we read romantic suspense. To mentally throw ourselves into situations we'd never be in. We can sit there and read about these strong characters that just might be doing what we prefer imagining we'd do rather than our actually doing it. Not because we're wimps, but because it's more fun to read about it than go without a shower for a few days.
So tell me, what attracts you to romantic suspense novels? The stories? The characters? Perhaps even the villains? Would you go on the run with a sexy guy?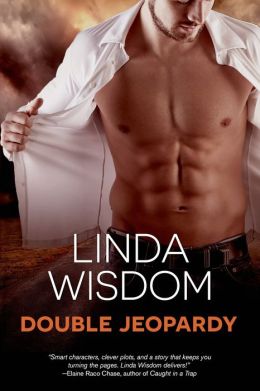 He's exactly what she needs…and everything the other woman wants. Assistant District Attorney Josh Brandon has made a life of helping women escape violence and abuse in his small desert town outside Los Angeles. But in doing so, he's gained himself a new admirer who refuses to be ignored. She sends flowers. Leaves phone messages. Everywhere Josh goes, she goes, too. And when he meets Lauren, the gorgeous new Medical Examiner, his stalker takes notice.
Lauren Hunter swore off men after an attack led to her scandalous divorce from an LA detective. But she hadn't counted on Josh, the sexy cowboy assistant DA she meets when she escapes to the dusty old town. He's exactly what her damaged soul needs…until the threats begin.
Falling in love was never the plan, but as Josh and Lauren butt heads over a case, their arguments turn from heated to hot. But someone is determined to come between them. Someone whose rage is growing. And she won't stop her attacks until Josh and Lauren are separated forever.