Congratulations to Bn100., the winner in Cathy's giveaway on JUST ROMANTIC SUSPENSE!
First, I want to thank JRS for having me back! This is one of my favorite places!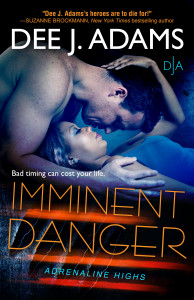 In Imminent Danger, trust is a big issue for Abbey Washington. Abbey went through a traumatic event as a young teenager and has been struggling to live life like a "normal" person ever since. Although she's a talented dancer, her fears have kept her from having the life she truly wants.
Enter Blake St. John, a man who's had to battle his own demons because of a vicious kidnapping years earlier. Though Blake is attracted to Abbey, he knows that she's the only person who can ultimately decide how and when to come out of her shell, but he'll do just about anything to gain her trust, even face his biggest fears.
It takes an attempt on Abbey's life to make her see that if she doesn't live every day to the fullest, she might lose the chance completely. Abbey realizes she has to let go of the past and if she truly wants to change, to grow into a woman she wants to be, she'll have to trust that Blake can help her.
Trust can be a very difficult thing to earn if someone's been hurt the way Abbey has, but I loved Blake's patience in showing her how to trust, how to love. He never pushes her… he gives her time and space, but manages to give her attention at the same time. One other thing and maybe most important – he respects what she's been through and empathizes with her feelings. It's only a matter of time before Abbey realizes what she has in Blake.
Okay… I'll admit it… I love these two, but I digress!
Giveaway:
How well do you trust? Did someone ever do something to you and it changed the way you lived your life or felt about people?
Comment for a chance to win a digital copy of Living Dangerously, book 4 in the Adrenaline High series! And… if you swing by MY blog at http://deejadams.com/blog/ and comment, it'll double your chances of winning because you'll be entered twice!
...And, since this is THE spot for romantic suspense, you don't want to miss this!
Danger & Desire
Limited Edition box set with 10 currently published Steamy Romantic Suspense Novels is available for pre-order for only 99 CENTS!
Hold on tight for ten tales of intrigue and passion from New York Times Bestselling and award-winning authors. Men in uniform, sexy spies and pulse-pounding action fill over 650,000 words of this limited edition boxed set.
New York Times Bestseller Katie Reus - Sensual Surrender
RITA Award Winning Author Carolyn Crane - Against the Dark
USA Today Bestseller Pamela Clare - Skin Deep
New York Times Bestseller Dianna Love
Dee J. Adams - Against the Wall
USA Today Bestseller Norah Wilson
USA Today Bestseller VK Sykes - Lethal Confessions
Amber Lin
USA Today Bestseller Misty Evans
New York Times Bestseller Kaylea Cross
Excerpt:
"You're in a good mood," Abbey said, coming out of her bedroom.
Blake turned and nearly dropped to the ground in supplication. It took a concerted effort to keep his jaw from hitting the floor.
Abbey canted her head. "What?"
What? Was she kidding? What was that in thirty minutes she'd transformed herself from stunning girl to absolute Miss Universe perfection. He didn't often see her wearing makeup and the effect it had on her already smooth skin and clear green eyes nearly brought him to his knees. Her dirty blond hair hung smooth and long around her shoulders, and the form-fitting strappy neon pink top and black leggings with a matching pink stripe down the side showed off her toned dancer's body. He pegged her at five foot eight and she was all legs. The girl had legs to her neck. Legs he wanted wrapped around his waist as he pushed inside of her and sent them both—
"Hello." Abbey snapped her fingers in the air. "Blake. Yo."
He snapped out of his daydream.
"What's got you on another planet?" She headed to the sofa and left the smell of citrus in her wake. She rifled through her bag for something.
"Uh…nothing." He backed up toward the door. "You ready to go?" If he stayed in her apartment much longer, she might end up out of those clothes she wore. Man, he could imagine stripping everything off her. Slowly and surely exposing every inch of smooth, soft skin.
"I don't know." She put a hand on her hip and cocked a stance. "You ready to stop looking at me like I'm your next meal?"
His gaze flashed to hers and he smiled. "Was I doing that?"
She nodded with one eyebrow arched high.
"Sorry. I couldn't help myself. I'll work on it."
"Good. You need to." She swung a large bag over her shoulder. "C'mon. I don't want to be late," she said, passing him to open the front door.
IMMINENT DANGER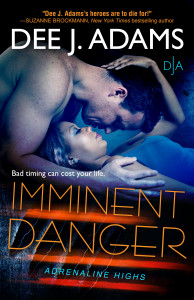 For Abbey Washington, dancing is more than a dream, it's a way to forget her past. But being at the wrong place at the wrong time makes her the sole witness to a stabbing and brings back horrible memories. Since the killers saw her just as clearly as she saw them, Abbey is now a loose end that needs to be tied up.
Blake St. John is working toward his PI license and hopes to find the man who hurt his brother in a kidnapping. He quit chasing his quiet co-worker, Abbey, months ago. But now that she needs protection, he takes on the role of bodyguard and all the feelings he tried to bury for her come back with a vengeance.
Abbey's past makes it hard to trust and an attempt on her life forces her to realize that time is running out as the killers get closer. Now, she must risk it all or face a life without the one man who showed her how to love.
Social media links:
Blog: http://deejadams.com/blog/
Facebook: http://www.facebook.com/DeeJAdamsAuthor
Twitter: https://twitter.com/#!/DeeJAdams
Website: http://deejadams.com/
Other: http://www.goodreads.com/author/show/5107047.Dee_J_Adams
Giveaway ends 11:59pm EST Aug. 21st. Please supply your email in the post. You may use spaces or full text for security. (ex. jsmith at gmail dot com) If you do not wish to supply your email, or have trouble posting, please email maureen@justromanticsuspense.com with a subject title of JRS GIVEAWAY to be entered in the current giveaway.