Congratulations to "Erin", the winner of Angi's giveaway. Thank you to all who participated!
The Rebel. The Bad Boy. The Loner. Why is a renegade hero so attractive? He's been around for a long time….We loved our Rake stories. A little scruffy around the edges, but he cleans up too handsome for words. Motorcycles, leathers jackets, brooding faces, or Adamantium claws…they just make this hero more desirable.
I love the Marvel Comics Movies. I have them all on blue ray and have watched them multiple times…and I haven't given up on Loki yet. Okay I know I should? He's a villain, but there's something about him (at least Tom Hiddleston) that makes you think that the right woman would change him for the better. Some of my first renegade loves with Steve McQueen and Clint Eastwood.
My renegade is Brian Sloane. After his small home town believes him guilty of carelessly setting a fire that killed a teacher, they ostracized him and believed him to blame for everything that went wrong. For twelve years he stuck it out. Wanting to leave. Needing to stay to take care of the family ranch. Secretly earning money on the side for his father as a paramedic, not caring that the town believed him a drug dealer.
After their father suffers a stroke, estranged brothers are forced to set their differences aside in order to save their family ranch in north Texas--solving a kidnapping and a twelve-year-old murder in the process.
THE RENEGADE RANCHER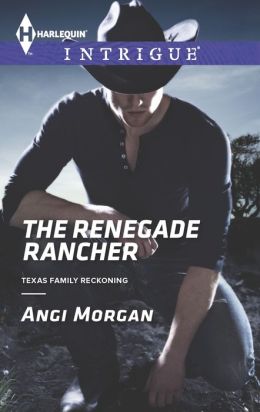 Texas Family Reckoning, book two
A TEXAS RANCHER FINDS TROUBLE ON HIS DOORSTEP IN THE FORM OF A KILLER'S BEAUTIFUL NEXT TARGET…
It's clear to Texas rancher Brian Sloane that Lindsey Cook will be a serial killer's next victim. For twenty years someone has been systematically killing off her family in "accidents," and recently her car was deliberately run off the road. The handsome cowboy is willing to be the protector the gorgeous blonde wants—but unwilling to act on their instant attraction.
Before long, the search for Lindsey's stalker leads Brian into more trouble…and right into Lindsey's arms. After one smoldering kiss, he knows there'll be no turning back. Though never one for relationships, he'll risk his life for her…and the surprising secret her family has been dying for.
~ ~ ~
"Morgan peppers her plot with enough action to keep readers hooked and seasons it with enough possible suspects to keep them guessing."
~4 STARS Romantic Times Magazine
~ ~ ~
ANGI MORGAN writes "Intrigues where honor and danger collide with love." She combines actual Texas settings with characters who are in realistic and dangerous situations. Angi's work has been a finalist in the Bookseller's Best Award, Romantic Times Best First Series, Gayle Wilson Award of Excellence and the Daphne du Maurier.
Website Facebook FB Fan Page Twitter @AngiMorganAuthr
A Picture A Day Goodreads Pintrest Book Trailers on YouTube
Monthly Giveaway
~ ~ ~
ENTER ANGI'S monthly giveaway contest: register at Rafflecopter through May 31st. Speaking of giveaways for a Blog Commenter. LEAVE A BLOG COMMENT to be entered for book 1, John's story...NAVY SEAL SURRENDER (north America only folks…sorry postage is just too high)
WHO'S YOUR FAVORITE RENEGADE? Leave your opinion for a chance to win.
Giveaway ends 11:59pm EST May 20th. Please supply your email in the post. You may use spaces or full text for security. (ex. jsmith at gmail dot com) If you do not wish to supply your email, or have trouble posting, please email maureen@justromanticsuspense.com with a subject title of JRS GIVEAWAY to be entered in the current giveaway.