Congratulations to Jaclyn L and Janice H, the winners in Trish's giveaway. Thank you to all who participated!
Have you ever participated in (if you are a writer) or seen (if you are a reader) an interview on a blog, radio, TV or some other platform where this question came up—'Why should we buy your book?'
If it's a non-fiction book, the answer is simple. If your book is called 'How to Prevent Bullying, or 'How to Grow Roses', it's a no-brainer.
But what about fiction? What is it that compels us to buy one writer's works and not another? Why do we like certain books while we can't even finish others? Even if we like most romantic suspense stories, there are some that just don't have any appeal.
Why?
Most of us probably don't really know the answer, but if we take the time to do some research about the kind of books we enjoy the most, we would probably find it.
Having recently read a blog post about this subject, I pulled out a pad and pencil and started going through my books and I created a list of the primary characters' likes, dislikes, motivations and character traits.
While some writers write consistently similar stories, mine are quite diverse, and the characters all come from totally different backgrounds.
Twila Taunton in the Redneck P.I. Series is a self-professed redneck from a small town in Alabama and had a happy, although poor, upbringing. She's afraid of commitment, which causes her to vacillate between the O'Connor twins in Redneck P.I. and Harland O'Connor and Tanner Ferrano in Kick Assitude. She has a good reason—her fiancée dumped her on her wedding day. In every other facet of her life, she is self-confident, bucks against authority, doesn't suffer fools gladly, and hates injustice. She shows great compassion toward the needy, be they people or animals, and is quick to champion an underdog.
Capricorn Cravings is the first in my Zodiac Series, in which each primary character belongs to a different star sign and demonstrates the typical traits linked to her sign.
Veterinarian Riley Shaughnessy, in Capricorn Cravings, comes from a middle class family with a moderate income, and had a happy childhood, but she married an abusive man. This plays an important part in her inability to commit to any kind of relationship. Being a Capricorn, she is practical, cautious and stubborn. She struggles to come to terms with the grief of the owners when animals in her care die, but shows great compassion to people and animals in need.
FBI psychic Arlette Xylander, in Aquarius Addiction had a happy family life despite her mother's alcoholism. When her father remarried and abandoned her, things changed. As an adult, she avoids relationships because of her father's betrayal. Being an Aquarius, she is rebellious, a risk-taker, and a loyal and compassionate friend. She is determined to do three things—beat the odds of her terminal disease; find Andre Rossouw's missing sister, and have wild and passionate sex with him. (This book is not yet released).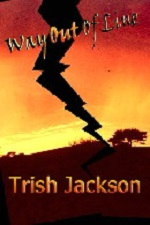 Trent McNaughton, in Way Out of Line, is a spoiled, recalcitrant teenager who has been given everything material by her wealthy parents. Hal St Cloud is actually the primary character in this novel. He is kind and gentle, fiercely loyal and has a good sense of humor. His parents and only brother died in a car wreck, and he carries around the guilt of not being able to save his brother's life after the accident.
So why did I write about them? What is the one thing that makes them similar? It took a lot of soul searching and deep thought, and I came up with one answer—compassion. You would enjoy my books because my primary characters are all compassionate despite their own emotional and physical problems.
Or could it be because you will become emotionally involved with the characters, and anxiously cling to their hope for a happy outcome to their stirring struggles; celebrate their highs; share their erotic passions; laugh with them and feel their joy, and be inspired by their compassion?
I would love some feedback. See if you can find my why. Join my mailing list and get a totally FREE download of my novelette, Riley's Story. http://www.trishjax.com/freebies-giveaways.html
Bio: Trish Jackson writes emotive romantic suspense focusing on astrology, small towns, country folk and their animals. www.trishjax.com
Giveaway:
2 Free Kindle downloads of Capricorn Cravings.
Capricorn Cravings
The only thing missing from Riley Shaughnessy's life is a man. She has a thriving veterinary practice, a home she loves, and has managed to put her dark past behind her.
Everything is turned upside down when hunky Powell Stewart arrives and overhears her saying she needs to get laid. But could he be the one who abducted her young assistant, Jamie? She can't help being attracted to him despite the warnings in her daily horoscope.
Excerpt:
She crouched down beside him again. A musky man-smell radiated from his sweating body. She wrapped her fingers around his upper arm to shake him. It was warm and solid with muscle. "Men always feel so hard," she said aloud. "I wonder how the rest of him feels . . ." She smiled at the pure audacity of her thoughts as she slid her hand across his chest and down his stomach to feel for wounds. Two shots had been fired. "Big muscles, hard abs. Pity his belt is done up so tight." She paused, shocked at her words. "I can't believe I'm having such wicked thoughts. Tara would be proud of me. She's always telling me I need to get laid." Heat and a tingling feeling rushed through her with such intensity she gasped. "Maybe she's right. It's been a long time since I felt any part of a man's body, but I didn't expect . . ."
She caught the gleam of his eyes in the grayness and jerked her hand away hastily. "Shit, I suppose you heard that?"
Giveaway ends 11:59pm EST April 27th. Please supply your email in the post. You may use spaces or full text for security. (ex. jsmith at gmail dot com) If you do not wish to supply your email, or have trouble posting, please email maureen@justromanticsuspense.com with a subject title of JRS GIVEAWAY to be entered in the current giveaway.