With: Jaycee Clark
Congratulations to "Jonetta" and "Lauren B.", the winners in Jaycee's giveaway. Thank you to all who participated!
Once upon a time, I thought, why don't I write a book. God knows I read enough and half the time on the way to class (college way back when) I would use the drive thinking how different the story would be if only the author had chosen path C rather than path B. So I did. I sat down and wrote this wonderful (read truly dreadful) historical romance. I knew that whoever read of this masterpiece would, of course, want to not only read it, but want to publish it. And then the rejection letters flew into my post office box. Imagine the flurry of letters like a scene from Harry Potter with owls dropping missives. Yes, well….
Yet, even while receiving many 'sorry this isn't…/we're not…' letters for that fantastic (read atrocious) historical, I was already busy on my next book. A series, though this time contemporary. Between finishing that last book and starting this one, I had stumbled upon a new group of books I read voraciously. They had mysteries, usually dead bodies, a bad guy you loathed, and a hero that would help keep the woman safe and help justice prevail! I wanted to write a book like that! So I set aside horrible historical #2 and switched gears.
I began writing Aiden and Jesslyn's story in the Kinncaid Brothers series. At the time it was titled Till Death Do Part. I think. Yes, Dark Whispers was the second title. Then I clicked on the idea of Deadly in the titles… I joined a critique group and learned a LOT. I finished. Sent off queries. Received more fluttering rejecting missives. Yet, I could not stop. I couldn't. The stories were alive in my head. The people were real. I knew that Aiden didn't really like broccoli and Gavin was tired of playing the playboy part when he was so busy he didn't have time to date. Brayden was suffering from lusting after his daughter's nanny who had a huge, dangerous secret, and Ian… Well, Ian was just… Ian. While writing these brothers, I learned I liked action. I loved villains, well, (perhaps loved isn't the appropriate word) respected villains and I did love the mayhem they could create for my protagonists. I needed someone to hate while writing the book, someone my protagonists hated as well, someone they needed to fear. I did not plot. I had scenes I knew I wanted to use, but where exactly that scene would go, I wasn't sure. I enjoyed the story along with my characters, it was new, it was fresh, it was…fun, and hard, and wonderful and thrilling. I have old versions of the deadlies. Some of them darker than what a small press picked up ten years ago. Yes, ten years ago.
I cannot believe The Kinncaids are Ten years old! So Happy Birthday my Kinncaid Brothers! I have to thank my readers who stuck with me this long. Seriously, THANK YOU! You have no idea what your support and encouragement means when one is questioning one's choice in career paths. Teaching PreK really wasn't where I was meant to be. Ten years ago I saw writing, or my writing, more as a hobby. A hobby I had to set aside for a few years due to life and changing foundations. At least, I did until I filled in the cracks, tugged up my big girl boots, and sallied forth…back to my keyboard. Now I realize writing is not a hobby. This is my career. The voices in my head want their stories told and I'm busy telling them. My readers want those stories and I will ever strive to please.
It's wonderful to find yourself in life and realize you're exactly where you're supposed to be. I could have given up after those first few rejections. Could have tossed in the towel later when even more came in, or when I'd stopped writing and for some masochistic reason counted—yes, that's right counted—my hundred plus rejections. I didn't. I kept on writing, kept on dreaming, kept on believing. *Cue in Journey's Don't Stop Believin'*
Ten years ago, Deadly Shadows (Kinncaid Brothers #1) was released in April. A couple of months ago, I released the last book in the Kinncaid Brothers series, Deadly Beginnings. Stubbornness, it's a virtue, at least in this case. This series will always mean so much to me, even as new characters and new series take me on their journeys.
To celebrate the Kinncaid Brothers/Deadlies Birthday, Deadly Shadows is free at most ebook retailers! All the Deadly books are available separately or as a boxed set at your preferred ebook outlet.
Deadly Shadows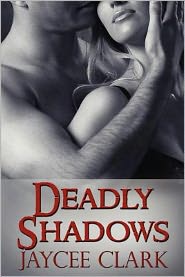 Shadows whisper and the words are deadly . . .
A small, friendly Colorado town, nestled in the breathtaking Rockies, cloaks a malevolence, an evil that stalks women.
Jesslyn Black, a writer, is content living her now-single, childless life. If she keeps to herself, she can't get hurt. Haunted by the past, Jesslyn never again wants to experience the soul-shredding pain of losing loved ones.
But a murder changes that.
Aiden Kinncaid is running from his own secret loss. As the CEO of Kinncaid Enterprises, he travels to this remote Colorado resort town to oversee the opening of the new Highland Hotel. Though he's not interested in any kind of relationship, he finds himself drawn to this temperamental, brown-eyed beauty. And her rough-edged attitude is a challenge to him.
But whether or not either sought a relationship—they've found one. Aiden wants to protect Jesslyn even if she claims she can take care of herself, and she finds she can't stop thinking about Aiden, even when he annoys her. Will they get their second chance at love and life before the killer eliminates one problem he doesn't need?
Amazon | Barnes and Noble
The Deadly Series Boxed Set
There are few men as sexy and charming as Jaycee Clark's Kinncaid brothers, and readers will be thrilled to find them all in one great place. Each of their heart-pounding stories is told in this five-book collection, including Deadly Shadows, Deadly Ties, Deadly Obsession, Deadly Games, and Deadly Secrets.
Amazon | Barnes and Noble
Thank you, JRS for having me. If you want to know more about me, you can find me at:
www.jayceeclark.com
facebook: https://www.facebook.com/jaycee.clark
Twitter: @JayceeClark
I also get bored and pin on Pinterest. I've learned not to attempt their crafts, the Pinterest minions weep when I do. Have a lovely week!
a Rafflecopter giveaway