By: Maryann Wakefield
Giveaway Alert!
I've been reading on this subject and it's very, very interesting. What I've learned so far is that I can do better making Luke a sexy hero. I can't make changes for A Gentle Sun Coming, but I can keep the same Luke and make him more incredible in my second book. I hope you will add your comments as to what you think. My information is taken from Alesia Holliday's article, "When Looks Really Don't Matter: What Makes a Hero Sexy?" found in the Romance Writers Report, April 2009, Volume 29, Number 4.
Holliday says that while watching a movie called The Illusionist, she noticed Ed Norton wasn't the typical tall, dark, and handsome leading man. She determined that it was his intensity--the way he looks at a woman as if nothing in the world matters but her. He has a laser-like focus of his gaze. As the film finished she was preparing a poll of readers to answer what, other than looks, makes a hero sexy.
Here are the results:
1. A sense of confidence and a bit of an edge.
2. A hint of a bad boy with a touch of sensitivity and a sense of humor.
3. A protector with a desire to provide. He would put his life on the line to protect those
he loves.
4. The edge may not be danger but a special talent or gift. He might exhibit "you're in my
world and I'll do what it takes to make it right for you."
5. A real guy--not a caveman, but he may not pay a lot of attention to your shoes. He
doesn't act like a girlfriend.
6. He knows when to listen and pay attention. "He's absolutely focused on understanding
this woman and everything about her matters."
7. Deliciously intelligent and funny
8. Some special areas of knowledge--knowing all the star constellations and the perfect
dark spot for viewing.
9. Persistent, determination, tenacious and smarts in how to use those traits
10. "It's the ability to look at a woman with those eyes and convey an entire
sonnet with a glance." It's a matter of focus.
Blurb: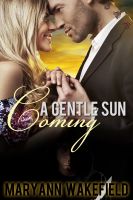 When Kade Turner lost her husband and son to a freak automobile accident, she tried to commit suicide and was hospitalized for a year. Daily sessions with Dr. Luke Bradshaw brought her back to the land of the living… and also of loving. Or so she made him believe, as an unexpected and suppressed emotion is kindled and an eternal flame ignited on the night of her departure. She flees to Destin, Florida with the goal of being reunited with her family 'on the other side'; unable to believe Luke could love a 'lost cause' like herself.
Instead, she is targeted by a serial killer who sees her as a challenge. Unbeknownst to Kade, her worst nightmare is her next door neighbor; a man who knows her every move and hears even her thoughts. Will Luke find her in time? Is what they shared strong enough to turn a determination to die into an undeniable desire to live?
Excerpt:
Again the office was silent. Dr. Bradshaw's scrutiny interrupted Kade's thoughts, but she drifted away again, wondering if anything she had read was true. He was certainly nice looking with hair the color of sun-bleached mocha, cut to look professional even though pieces escaped their intended placement. His blue eyes were indecipherable.
Nothing about him ever changed, only his glasses. Even though the professional looking clothes changed, they didn't in Kade's mind. The magazines on the side table never moved, only their dates changed.
Again, her thoughts were broken, this time by the doctor's voice bringing her back to the peaceful, luxurious office.
Dr. Bradshaw studied Kade as her concentration flitted about the room, never lingering anywhere. Part of her inattentiveness, he knew, was an honest emotion. Nevertheless, she used it as a ploy to avoid painful conversation. This was the usual pattern, but today started differently, until now. Suddenly, Kade became absorbed in returning her pockets into her jeans. She would not focus on anything except arranging her pockets.
Dr. Bradshaw's unintended anger changed his tone and tactics. He was tired of her games, tired of her refusal for help. "Kade, you must talk to me. You said you are ready for me to help you, but I can't if you won't let me. Start anywhere, but talk. Talk now."
Ignoring his plea, she deliberately continued gazing around the room, playing her usual game, looking for something different or out of place, refusing to give up her control of the moment. Nothing had changed. Almost every day for the past year she came to this office, and every day it was the same, every day, every damn day, the same. Nothing changed, except those glasses and the occasional wisp of hair.
Kade watched her doctor as he laid his glasses carefully on the desk. She knew he was fighting to control his frustration with her lack of cooperation. She had to leave. She would pretend. She would change. Dr. Bradshaw would think he had won.
"Okay, Doctor. I'll talk," Kade said with unused anger spilling out of her voice, her body leaning forward as her hands gripped the chair arms, "but first, I have a question for you."
Buy Links:
Author Bio:
I am a writer. I can't tell you how much I love saying those four words. I've always been a writer. I'm fascinated by the power of a single word. As an educator, well crafted words got me what I wanted, what I needed for my children, teachers, staff, parents, my building, and, of course, for myself.
Now I write fiction stories inspired by a lifetime of observations, experiences, dreams, and what-ifs. I surround myself with other writers: Ozark Romance Writers, Ozark Writers League, Springfield Writers Guild, Sleuth's Inc, Sisters in Crime, and Mystery Writers of America. I sit on the board of Missouri Writers Hall of Fame. I participate in the annual Writers Hall of Fame Writers Workshop. The mission is to award scholarships to talented high school seniors and to recognize students in grades 5 through 12 for their writing skills. To fulfill the mission I'm involved with selecting a professional writer with significant contributions to receive the Quill Award at an annual Gala.
I'm a lifetime member of Missouri State Teachers Association and the National Education Association. My career as an educator was in Springfield, Missouri where I taught at four elementary schools (Delaware, Holland, Horace Mann, and Eugene Field) and served as principal at two (Weaver and Alice Pittman). Later I became a consultant for Springfield Public Schools and taught reading at Drury University. I loved those years, all those children, all those memories.
Now I write. I bring to this new job passion and the ability to set missions and goals. To be a writer, you have to know yourself. I'm good at climbing out of the tough valleys that life brings; I believe that I can make the tough valleys of others easier with my stories. I want to make a positive difference. I believe my first novel, A Gentle Sun Coming, will do that. My agent, Jeanie C. Loiacono, Loiacono Literary Agency, LLC. and Madison Connors, Front Porch Romance is marketing it now. Take a look at their web site and find my name under Clients. I'm at work on my second novel, A Raging Storm Coming.
When I'm not sitting in my downstairs office with the window onto my yard, I'm off on another trip (LOVE to travel!), out working in my flowers, taking long walks, playing tennis, lunching with the girls, soaking in my tub, playing bridge with long-time friends, curled up with a good book (and maybe a small glass of wine), or entertaining friends and family. Ah, my family! When I'm counting my blessings, I begin with my husband, Larry Wakefield (my childhood sweetheart) and my wonderful family: son Allen and his wife Lisa, son Scott, deceased, and six grandchildren.
Am I happy? Yes. I used to say that teaching was the best job in the world. I loved being a teacher. But I have to tell you that realizing my second dream–becoming a full time writer–is even better than I expected. It's hard work. I can't get enough.
Be sure to enter the rafflecopter giveaway and join the Facebook event!
a Rafflecopter giveaway