Congratulations to "Taurus", the winner of Patricia's giveaway. Thank you to all who participated.
DUET IN CRIMSON is a 2fer – two romantic suspense novels in one package. Entangled Publishing released them a month apart last year, and this year are offering the two together for a special price.
Considering how much I always looked forward to Christmas for the positive things – having parties to bring friends together, getting together with my cousins to bake dozens and dozens of Christmas cookies over a long weekend, making sure I visited with every relative I could – you would think I would wax poetic about the holiday when I got a chance to write a Christmas book.
Not so.
I must be hard-wired for that dangerous love thing I write. So I had to commit murder to get my hero and heroine together.
When I wrote HOLIDAY IN CRIMSON, I had to figure out who to murder and decided to go with a little dark humor and make my victim Santa Claus. No, not THE Santa Claus. One connected to a department store.
In Holiday in Crimson
Westbrook Department Store's Christmas party wasn't that wild--but Santa ended up dead and now window designer Shelby Corbin suddenly finds herself the prime suspect in his murder. While CEO Rand McNabb's romantic attentions both thrill her and frighten her—is Westbrook's impossibly sexy co-owner really helping Shelby search for the truth about that fatal night? Shelby wonders if Rand has a deadlier motive for courting the only possible witness to the crime...
And then a few years later, I had the chance to write a related book, NIGHTMARE IN CRIMSON, and did it again.
In Nightmare in Crimson
Last holiday, Pippa McNabb's faithless husband was found murdered in a Santa suit after a Christmas party. Another year, another Christmas party, and another dead Santa – this time, run down by eight tiny reindeer and a sleigh. And now Pippa is the prime suspect. Sexy sleigh driver Sky Thornton seems intent on helping her, but is the man who knows too much about her really trying to clear her name, or is he trying to frame her for a murder he committed?
Writing romantic suspense doesn't get much more fun than that.
One of the things I love to write is a hero-in-doubt, or in this case, at least to the hero, a heroine-in-doubt. I love making them suspect each other. It adds another line of tension, takes them another layer of unraveling before finding true love.
The most challenging part of writing the second story was to make it different from the first. Both CRIMSON stories are set at Christmas, both at the same department store, both with a dead Santa as the central mystery. The first thing I had to do was figure out a death that would be different, interesting and leave the authorities confused about whether the hero, the heroine, or someone else is the murderer. The fun for me was in having Pippa and Sky suspect one another even as they are attracted to each other. And in having Pippa discover Sky's true involvement AFTER she falls for him. I hope that's fun for readers, too.
Here's an excerpt:
Staring down into the gently glowing embers, she felt a stirring. She could feel warmth from both directions. All too aware of Sky behind her, she shifted restlessly until his hands encircled her shoulders.
Then she froze.
Heart pounding, mouth suddenly gone dry, she waited for his next move. Not knowing what she would do, how she would respond. Closing her eyes, she expected to envision Dutch's face wearing that loopy grin that had once attracted her to him. She didn't, though, and the fact surprised her. Maybe she was over her late husband, after all. He'd certainly given her enough reason to want to be over him while he was alive.
And maybe she was playing the dunce, foolishly swayed by the very first new attraction that intrigued her and made her pulse pound. And maybe she was trying to give Sky the benefit of a doubt because of her mistrusting all men after her disaster of a marriage. Judging one man by another certainly wasn't fair, and it was time she started working on the issues that had been keeping her glued to the past—a big order considering how much else she had on her plate.
But not much else seemed to matter when Sky turned her to face him and dipped his head, all in one smooth movement that held her spellbound. His mouth dominated hers.
She was paralyzed—very, very excited—and definitely unnerved.
For, pressed against his chest, his strong hands anchoring her shoulders, she became aware of Sky's true power—the ability to make her want to forget everything but him. The details of their discussion grew hazy. The present seemed to recede. It wouldn't do, wouldn't do at all. He was wrong for her. Too tough, outside and in. And yet she didn't fight him. Didn't even murmur a protest as he explored her mouth more thoroughly, more sensuously than she had ever dreamed possible.
For the moment, she gave over and allowed herself to be good and truly mesmerized. And when, after lightly running his hands down her arms, Sky released her and shifted to her side to give her breathing room, Pippa was relieved.
Ah, romance during the holidays. Do you have a fun story you would like to share?
Buy Links:
Amazon | Barnes and Noble | Kobo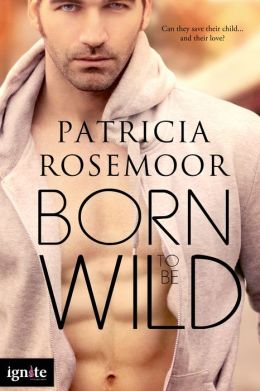 Giveaway alert:
One person who comments will win a digital copy of an earlier Entangled release, Born to Be Wild.
Happy Holidays to all and to all a good night :)
With 95 novels and 7 million books in print, New York Times and USA Today bestselling author Patricia Rosemoor is fascinated with "dangerous love" – combining romance with danger. She has won a Golden Heart from Romance Writers of America and two Reviewers Choice and two Career Achievement Awards from RT BOOKreviews, and in her other life, she teaches Popular Fiction and Suspense-Thriller Writing, credit courses at Columbia College Chicago.
You'll find Patricia at http://PatriciaRosemoor.com or at https://www.facebook.com/PatriciaRosemoorAuthor
@Prosemoor is her Twitter handle
Giveaway ends 11:59pm EST Dec. 22nd. Please supply your email in the post. You may use spaces or full text for security. (ex. jsmith at gmail dot com) If you do not wish to supply your email, or have trouble posting, please email maureen@JustRomanticSuspense.com with a subject title of JRS GIVEAWAY to be entered in the current giveaway.