Congratulations to "Marijane" and "Tracie2667", the winners of Angi and Robin's giveaway. Thank you to all who participated!
IT'S A TWO-FER!
Two Authors, Two Books, Two Mysteries,
Two Dogs, Two Heroes, Two Heroines
…Two Amazing Reads for Christmas!
Two Authors: Angi Morgan and Robin Perini have a lot in common: both write for Harlequin Intrigue, both won the Romance Writers of America(r) Golden Heart in the same category one year apart; both have the same agent; both were purchased by the same editor; and both live in the western U.S. They also happen to be related in a strange and confusing sort of way, but that's another story.
Two Books: In December, Robin released The Cradle Conspiracy (4.5 stars from RT Book Reviews), her seventh published novel since November, 2011. Angi's newest release, The Marine's Last Defense (4 Stars from RT Book Reviews), hits the stores in January and is her fifth book.
Two Mysteries: Both known for fast-paced, exciting stories, these two authors are bent on giving their readers heart-pounding tales with lots of surprises and a love story sure to melt your heart.
Two Dogs: Dallas and Trouble. Two canines who win the hearts of their heroes, heroines and readers alike. And who could probably be the best of buds.
Two Heroes: Jake and Daniel both have a past that afflicted them with Post Traumatic Stress Disorder. Throughout their struggles with PTSD, though, these heroes will do anything to protect the heroines and between the love of two good women and two good dogs, these two good men will find out that they are not alone.
Two Heroines: Sabrina and Raven are on the run for their lives. While Sabrina is hiding her identity, Raven's identity is a mystery—to her and her hero. They must face the worst to grab hold of a chance at happiness.
THE MARINE'S LAST DEFENSE
, Angi Morgan,
January Intrigue
TO THE REST OF THE WORLD, SABRINA WATKINS DOESN'T EXIST. BUT TO THIS COP, SHE IS VERY MUCH ALIVE IN ANGI MORGAN'S THE MARINE'S LAST DEFENSE.
After escaping a killer, playing dead was the only way Sabrina Watkins could get out of Amarillo alive. Now she's living in Dallas, where no one knows her true identity. Until homicide cop Jake Craig shows up.
A half-frozen pup he finds at a crime scene brings Jake to Sabrina's doorstep. Suddenly, the former Marine is playing hero to a desperate woman on the run. Sworn to clear her name, Jake's already falling for the stunning brunette with the amethyst eyes. Can he keep her safe and turn a rescue mission into a last chance at love?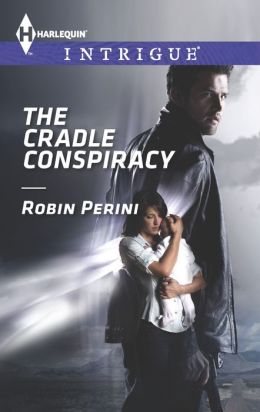 THE CRADLE CONSPIRACY
, Robin Perini,
December Intrigue
IN ROBIN PERINI'S THE CRADLE CONSPIRACY, TWO THINGS HAVE BEEN STOLEN FROM RAVEN: HER MEMORIES…AND HER BABY
CIA agent Daniel Adams, once a prisoner of war, is a loner out of necessity. But rescuing an amnesiac woman left buried alive bonds them in ways neither can resist. All "Raven" knows is that her baby is in danger. All Daniel can focus on is finding the missing child—and protecting Raven every step of the way.
Her memories are lost and his are scarred from the damages of war. But as they depend on each other for survival in the rugged west Texas mountains, the pieces of their broken pasts start to come together. Now all they have is the risky hope of a future together as they confront the threat that can destroy them both.
ANGI MORGAN writes "Intrigues where honor and danger collide with love." She combines actual Texas settings with characters who are in realistic and dangerous situations. Angi's work has been a finalist in the Bookseller's Best Award, Romantic Times Best First Series, Gayle Wilson Award of Excellence and the Daphne du Maurier.
ROBIN PERINI
is a RITA Finalist, award-winning and national bestselling author, devoted to giving her readers fast-paced, high-stakes adventure with a love story sure to melt their hearts. Her mission's motto: "When danger and romance collide, no heart is safe." After seven prestigious Romance Writers of America® Golden Heart® finals, Robin has since sold fourteen novels.
ENTER ANGI & ROBIN'S 'THANKS FANS contest': register at Rafflecopter through December 6th for a copy of THE CRADLE CONSPIRACY & THE MARINE'S LAST DEFENSE. Speaking of giveaways…WE EACH HAVE A BOOK TODAY for a Blog Commenter.

LEAVE A BLOG COMMENT to be entered.
Giveaway ends 11:59pm EST December 6th. Please supply your email in the post. You may use spaces or full text for security. (ex. jsmith at gmail dot com) If you do not wish to supply your email, or have trouble posting, please email maureen@justromanticsuspense.com with a subject title of JRS GIVEAWAY to be entered in the current giveaway.
WHAT'S THE BEST TWO 4 ONE deal you ever received?