You dared to be different in the early eighties, pioneering the 'military romance.' The Romantic Suspense world salutes you for opening up this thrilling sub-genre. Did you have any trepidation at the time as to how it would be welcomed?
LINDSAY: I had no such thoughts or fears. I was in the US Navy during the Vietnam War
era. I made the mistake of wearing my uniforming into San Francisco one day. I got caught and surrounded by about twenty Hippies, who pushed me around in the circle, spit on me, screaming "baby killer" at me. I came away shaken and angry. And I swore on that day, I would write books one day, that would show how brave, sacrificing and patriotic our military people were, as well as their families.
I was fueled by my passionate belief that I was going to change people's minds of civilian folks with the books I wrote about military people. Besides, a writer cannot write outside themselves. If they try, it requires tons of research to overcome their lack of direct experience or knowledge. I had lots of experience under my belt and felt well qualified, as a military vet, to write authentically about military men and women.
If a writer cannot be true to her passion for what she's writing, the book comes in DOA, dead on arrival, at the editor's desk. The editor will know it, too. I don't write what I don't know. And most of the time, I rely on direct experience. And for example, in the flying department, I had my student pilot's license at 17 years old. By the time I joined the Navy at 18, I had 39 hours accrued. So while I never got to fly military bombers or jets, I still had a strong background in aviation. And when I wrote about test pilots, bomber pilots, SAR pilots and helicopters, I went to the Pentagon, got vetted, and was able to fly in them--for experience, which is now in those books.
You've been a true pioneer in the romance field by creating the military romance. Can you tell me how your vision and creativity changed the face of Romance publishing in another way?
LINDSAY:

I was the first writer in the romance publishing industry to write three books in a row to make it a series. Nowadays, it's common to write a series. A no-brainer. Everyone takes it for granted. But I was the one who pushed that door open. When I approached my Silhouette editor in 1984 about it, she said it couldn't be done. I don't take the word "no" very well. Or "can't." I asked her if I could prove I could do it, would she move forward with a 3-book series I had in mind? She shrugged and said I could try it, but she didn't feel it could be done.
If readers will go to http://lindsaymckenna.com/book-series/, you'll see all my series I've written. The first "trial" was the Travis Series. I wrote one for Silhouette Desire and two for Harlequin Temptation. Trotting out what I'd done to my editor as proof that I could write three books in a row, she was amazed. I asked if I could write the series I had in mind. She said, "You have to do it again. This could be a fluke." Well, okay then! I proceeded to pen the Kincaid series next. This time, I wrote the three books for Silhouette Special Edition. And of course, there was no 'flash' on them to indicate they were a series, either. That was trial balloon series number two!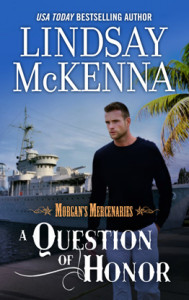 I showed my stunned editor I could do it and repeat it. Finally, she said yes, go ahead with the series I wanted to write and they would back it with a 'flash.' Not only that, she said the three books would come out three months in a row. Readers of Morgan's Mercenaries will quickly realize the first, "real" and "official" series ever created within the romance genre was my best selling LOVE AND GLORY series. It rolled out in Silhouette Special Edition in 1988. And it was screamingly successful. And Love and Glory did boffo box office business in the romance world.
From then on, other publishers and writers quickly saw the rise of my series sales numbers and standings, and they all plunged into the pioneering work I'd done, paving the way for them, and a huge change occurred on the publishing template, as a result. Thanks to Harlequin/Silhouette allowing me to prove that it COULD be done in the first place!
It's just us ladies here. Tell us about that well you have in your back yard. You know, the one that you tap into for ideas. You must have struck an underwater spring to have crafted 45 books in the just the Morgan's Mercenaries saga alone, and over a hundred plus unique novels in all.
LINDSAY: At nine years old I knew I was either going to be a famous writer or painter. At age 13, I chose writing and it became an undying passion of mine. Even my first short story was about a romance! The dye was cast. I wrote for twenty-two years, honing my craft without any help from anyone. Back in my day you did it the "hard way." There were no short cuts. Now RWA. Only a few books written on "how to write," and that was it. I accrued one thousand reject slips (magazines, newspapers, book publishers). I guess you could say I didn't pay much attention to "no" then, either.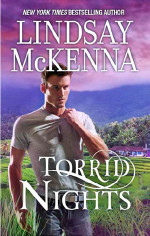 Finally, in 1980, I sold my first book to Second Chance at Love/Berkley. I've learned to pace myself. I get up roughly every twenty minutes and get out of the chair and go do something else....cleaning house, gardening, pulling weeds, watering my orchids....the list is endless. And then I come back and write. I also do a serious cardiac exercise training on my elliptical every day. I sweat and it feels good to balance off mental activity with similar physical activity. I usually write from September through April. I take the summer off and 'rest.'
I make sure I get eight hours of sleep. Thanks to my time in the military, I became highly disciplined and organized. Being a Gemini, they aren't know for either. And I have military service to thank for giving me these invaluable skills.
With such a diverse background in the military, what was the motivating factor the day you picked up a pen and started jotting down the ideas for a romance novel?
LINDSAY: My very first fiction short story I penned at thirteen years old was a romance. I guess that particular gene is alive and well in me. On a more serious level, I had written for years before I joined the Navy. I wrote while in the service and I wrote after I got out and joined the civilian world again. But my focus was on the fact I loved writing about love. For me that it was the most powerful, healing emotion we humans possess. And why not write about an uplifting positive? That was where I devoted my passion.
And of course, my passion is what makes my books alive. That and my diverse experience. I've beca,e a pilot at 17. I am a military vet. I was an EMT. And one of the first women firefighters in Ohio back in 1980. I've owned an Arabian horse farm for a decade, fulfilling my dream of owning one since I was a little kid. I was definitely horse crazy. And I've done things I can't talk or write about because I held a secret clearance while in the Navy. My research into military aviation got me two missions (night and day flight) in a B-52 bomber, a flight in a chase plane at Edwards Air Force Base in California, during an actual test flight, interviewing test pilots and learning about their lives, stresses and pressures.
Later, I spent seven days at USCG Port Angeles learning the ropes of Coast Guard SAR (search and rescue) from taking helo flights, to interviewing pilots, staff, mechanics and anyone else who was willing to talk to me. Captain Bud Breault, the commander of Port Angeles welcomed me with open arms and I wrote several books as a result of his support and enthusiasm.
If I haven't experienced what I want to write about, I do serious, in-depth research that can take years before I ever write about it. For example, on Shadow Warriors, I spent three years in research. I couldn't find a SEAL who was willing to help me with certain unclassified technical information, so I read every book written by a SEAL. And I took a lot of notes. As I read the books, I began cross-referencing repeated facts, such as SEAL ethos, SEAL mental mindset, the type of gear they wore, the weapons they carried, their training, until I was eating, breathing and sleeping it. By the time I met Chief Michael Jaco, US Navy SEAL, retired, I had sixty-six questions (all unclassified) to ask him. www.michaeljaco.com.
And one of the reasons he allowed me to interview him on these questions were he could see I'd done serious homework. These were NOT softball questions. These were highly detailed, focused questions on a particular weapon, topic, instrument or element of tactics that SEALs utilize. And to have him read DOWN RANGE and find ONE error told me I'd done very thorough research; even in the weapons department. He found one error. That was amazing to me. And he also supplied a forward (dear reader letter) to it, plus a quote for the back cover.
One of my motto's is, "A book isn't old if you haven't read it before." It's wonderful to see your original pieces re-released by Harlequin Special Editions...not to mention those eye-catching covers! Were you involved in the cover art process for these?
LINDSAY: I know when I discover an author that I love to read, I'm like a dog on the hunt for the rest of her books. And I'm always hoping she has a long, long backlist, because I intend to buy every last, dang one of 'em. And I do. I agree that other books written by the author you have found, and fallen in love with what she writes, are not 'old.' Just undiscovered treasure waiting to be read from my perspective.
I get a lot of readers who read my more recent books, but when they go over to my website and see the laundry list of 108 other books I've written, they too, are like me: on the hunt to get every last one of 'em. I'll keep my readers entertained with books for a long, long time. That's the beauty of being in this industry for thirty years.
I wish publishers would allow us writers to be more involved in covers, but alas, they aren't. Harlequin will send me a mock up of a cover and if there's something wrong in the military part of it (if it's a military romance), then I give them feedback and they change it.
I've had some really bad covers from all my publishers. And I've had some great ones. The Shadow Warriors series for HQN has fabulous covers in my opinion. Recently, I got a seriously awful cover, and I put up a helluva fight to get it removed and something--anything else--to replace it. But alas, the writer lost again. I can't even stand looking at a bad cover; it just makes me sad because I know my readers will spot it too. Plus, a bad cover lowers a reader's expectation of the story inside. I write strong, consistent romances ,and if I get a bad cover, my readers know the story isn't half as bad as the cover is.
In DOWN RANGE you take us to an Afghan village in the mountains. Do you find it easy to disassociate from your surroundings and put yourself in that part of the world?
LINDSAY: I've done serious, in-depth research into Afghanistan and Iraq. I print out articles. Print out military stories in that part of the world off the internet. I print out photos. And since I live in Arizona, definitely desert country, it's not hard for me to know the rigors, challenges, problems keeping hydrated, in that kind of environment. Or other issues that are associated with desert climes.
The Shadow Warriors series will take place around the world. In 2015, I have some books set in South America. I spent six weeks in Peru, off and on, and have been deep in the Amazon jungle in Brazil. I write about places I've been because I can put details in them that you'll never get otherwise. Where ever there is a need for operators around our world, I'll be writing in those areas. They won't necessarily be set in Afghanistan or Iraq.
Have any women in the military contacted you to thank you for bringing their tales to life?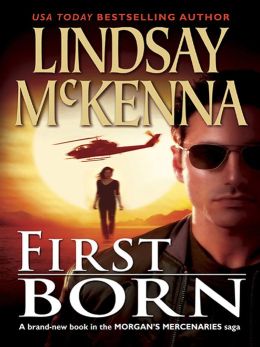 LINDSAY: I've received many letters and emails over the years from wives of men in the military, women vets, male vets, women in the military as well as their male counterparts. I have about 25% male readership of my military romance books. Once I had a British Army Apache helicopter pilot contact me after reading FIRST BORN (hero was Morgan Trayhern's son, Jason, who was an Apache pilot in Afghanistan), and he thanked me for writing the book. He did point out some things that wouldn't have happened, but he praised me for knowing the Apache so thoroughly. That was because I spent a day down at Boeing, in Mesa, Arizona, interviewing three Apache test pilots. And I got to actually sit in the cockpit of one while one of the test pilots showed me all the incredible instrumentation and abilities of this phenomenal combat helicopter.
From the women, I get thanked for showing them as strong, resourceful, confident and just as good -- or better -- than a man. From the men, they always hone in on the technical stuff, complimenting me for my thorough and detailed work. This all pays off with heavy, heavy research. I don't believe I could write as well as I do about flight if I hadn't been a pilot myself.
And, I also have consultants that I go to who have expertise in a given area that I don't. For example, my helicopter guy is Bill Marcontell. He was a Captain in the US Air Force (now retired) and flew Search and Rescue helicopters for the 38th ARRS in Southeast Asia in 1966-67. I send him scenes where I've written about a helo and ask for feedback. Sometimes I have the helo doing things they can't do. And Bill is so sweet about pointing it out. Even better, he suggests what it could do, instead. And all of a sudden, I have a much better helo scene than before. That happened in DEGREE OF RISK, HRS, April, 2014. He helped re-craft that scene based upon what a Black Hawk helo could do...and it just deepened the tension and danger as a result.
My other consultant is Chief Michael Jaco, US Navy SEAL, retired. He was in SEAL Team 6, Red Man Squadron, the same one that took bin Laden down. (He did not take part in that mission although he really wanted too). He spent twenty-four years in the SEALs and was a pioneer in developing close quarter combat techniques for them. He's a legend in the SEAL cadre. To this day, he is an operator, but beings that is all top secret, I don't ask and he doesn't tell. If I have a question and if he's home, I can ask him directly. But when he's overseas as a security contractor, I use email. He's a treasure trove of unclassified info, the types of things I need in my books to ensure they are authentic AND accurate.
For example, in DOWN RANGE, he read it. My heroine, Captain Morgan Boland, USMC, carries a SEAL Sig Sauer pistol. In the scene where she's jumped by Taliban, she flicks off the safety before firing. Chief Jaco told me that the Sig does NOT have a safety on it! Huge difference. He explained that they don't have those seconds to move the safety off the pistol. That in two seconds they can be dead. Made sense to me!
What can we look forward to next in the Shadow Warriors series?
LINDSAY: I wanted a large format to develop this black ops series. It will always have a man or woman who is or has been in the military. I'm forever intrigued as to how men and women get along in a stressful combat situation. I was the only woman in a twenty-man volunteer fire department for three years. I learned a lot, saw and experienced male-female actions/reactions during many, many dangerous situations. There are a lot of subtle differences that can change the tone of the challenges faced. Women are wired differently than men. They see the battlefield through contrasting eyes. And that isn't always a negative. Sometimes, it's a positive and can literally, save another person's life. One way is not right or the other, wrong. It's really all about trusting one another's assessment of the danger both are faced with. It's really about teamwork.
With that backdrop, I know different personalities behave differently when in danger. The stories will take place around the world. Sometimes, it will be about a security contractor who has been a SEAL, or a another of the black ops branches, such as Army Special Forces or Marine Force Recon. I wanted to write about what war does to an operator, as well. No one goes into combat and returns the same person. And I found that out in 'combat' as a firefighter. You see things, you experience things that forever change you. And sometimes, that's not a negative, but sometimes, it can be. Firefighters, police, emergency services (EMT, paramedics) can get PTSD, just as someone in the military can. Combat is combat. It may or may not be in a "war" footing. But combat means danger and life-and-death situations. And I bring my own unique knowledge and personal experiences to these books.
I love writing suspense, danger, adventure and crisis. Great friction to make a book a page turner. I like to keep my readers guessing. Even though there's always a happy ending, my readers aren't going to be able to prognosticate what will happen in the next scene or chapter. If readers are looking for something fresh, they will get it in this series in spades.
And as intense as a combat situation is, the romance will be equally red hot and compelling. You will find people in the military have a honed, laser-like passion for why they do what they do. They live in heart territory in many ways every day, their passion is taking care of their team members, keeping them safe and being a patriot for our country. And my hero will love fiercely when it comes to that special woman in his life, or that special man in the heroine's life. The ante is upped because when you are in love and in combat, the strain, the challenges, are amplified times ten. It presents different, unique situations for them, as well. And no two people EVER react the same when threatened, which, to me, makes for riveting, fascinating character studies. And it keeps readers guessing, too.
No one knows what they will do in a life-and-death situation until they're faced with it. I've faced death a number of times. I know what it does inside and outside a person. And I've seen fellow firefighters face equally dangerous situations. I bring these real-life experiences to the Shadow Warriors series.
I have always loved writing intense, emotional books. My hero and heroine suffer, struggle through hellacious adversity, deal with personal wounds and are challenged in external situations where most people would quit. And yet, they have military training, confidence and pure grit to gut through whatever they must endure together or separately. Either way, it altars a person. And when that person comes back changed by it? Can the other character transcend it all, loving them anyway? Allowing love to become a bridge of communication and eventual healing? I've written passionately, gloves off, for this series. I hope my readers enjoy the stories.
And I always am curious to know, if you were to sit down for tea with the Queen of England, what do you think the topic of conversation would be?
LINDSAY: Well, I haven't done that, but I did have champagne with Lord Spencer of Althorp, Princess Diana's father. We talked about his fabulous estate, the castle, the upkeep, the need for money because things were always needed to be repaired and updated. We talked about horses, horse racing and had a wide-ranging, highly cosmopolitan chat. This was before Diana was a princess, of course. I think it was 1985 or thereabouts when this occurred.
I know the Queen loves her thoroughbreds. We'd have a dandy time talking horse flesh and the fact that all thoroughbreds trace their lineage back to one of three Arabian a stallions! And since I had an arabian horse farm, I believe we'd have a highly enjoyable tea on that topic! The Queen would not be bored.
Welcome to Shadow Warriors series! DOWN RANGE is Book 2 of my new series. Danger Close, Harlequin ebook, is Book 1. I hope you get to see the video that gives readers a taste of what this series is about. Last year, Dorothy Fontana, Hollywood screenwriter, optioned this book to write a film script on it. Once written, it will be taken by her agent to hopefully, be sold as a movie. Keep your fingers crossed!
Having served my country in the U.S. Navy, I've been working quietly behind-the-scenes for three years trying to grasp the SEAL personality. What is SEAL? What makes a man become a SEAL? They are the ultimate warrior on this planet presently (and have been since the Vietnam era when they were created by President John F. Kennedy in 1962). I knew because of their black ops nature, I probably wouldn't be able to ever talk to a SEAL, much less interview one about this book. I WANTED too, but reality told me they lived in the shadows, didn't like media of any type, including nosy writers. They avoided "us" like a proverbial plague.
I've read just about every SEAL book written by a SEAL in order to understand (hopefully) their "type." I ran across a book, The Intuitive Warrior by Michael Jaco, US Navy SEAL, retired. I was so taken with how different, how vibrant and alive his book was compared to other ghost-writer written SEAL books (the SEAL tells his story and hires a writer to write it for him). In Chief Jaco's case, he wrote it himself. I became so excited by his heart and experiences he recounted in his book, that I thought I'd try to contact him. Never believing for a second he would respond.
As "fate" would have it, he did. Chief Jaco, who currently works as a security contractor around the world since 2002, agreed to a four hour interview with me. I had a ton of technical questions that were NOT top secret, that I knew he could answer. He was patient and tolerant, taking home my sixty-six questions. We met at he and his wife Tracy's home two days later and I got my questions answered. RT Reviews Magazine (RTBookReviews.com) will be doing a four page article written by myself on this interview in their December 2013 issue.
What I never dreamed of, happened. Chief Jaco read my book and liked it. Please read his Dear Reader letter at the front of this book, for his opinion. I hope that you too, will like Down Range. There are many more Shadow Warriors books coming and it has been an absolute joy to create them. And it's so nice to have a real SEAL with whom I can ask about technical questions -- and get answers. Plus, enjoy DOWN RANGE! Authentic information makes a book come alive in ways I can't put into words. SEAL approved by one US Navy SEAL. But you let me know? I love hearing from my readers: www.lindsaymckenna.com. As the SEALs say, "Rock it out!"