By: Jacki Delecki
Congratulations to "Cris", the winner in Jacki's giveaway. Thank you to all who participated!
Why an animal acupuncturist instead of an ass-kicking heroine? I've asked myself that question many times as I wrote my novel An Inner Fire. How did healing animals prepare Grayce Walters with the skills to solve crimes and protect a macho, hunky fire investigator?
Maybe I've been watching too many super heroine movie but I wanted to show my heroine's strength coming from her inner force. There are many different kinds of power and I wanted to emphasize the feminine side. The part of the human brain labelled as feminine because it relies on intuition.
Grayce uses her intuitive ability to heal animals. Is there any more beautiful or potent force? I wanted to celebrate the illusive power in people who listen and heal when we or our pets are ill. Not so easy to write a strength that we can recognize but when written can easily become clichéd.
I always planned to write the book as romantic suspense since I love suspense and a crime to be solved. But how to link Grayce to a crime and then how to have her actively involved in solving the mystery? The answer is obvious--through a dog, a very special dog. Mitzi, is a standard French poodle who just happens to belong to the logical fire investigator.
Grayce and Mitzi bond with a common goal: protect Davis who is oblivious to the danger and can't imagine protection from a 90 pound woman and 100 pound dog.
Here is part of the first scene of the book where Grayce leaves her calm world of animal healing and enters the murky world of arson and crime on Seattle's Fisherman's Terminal.
Chapter One Excerpt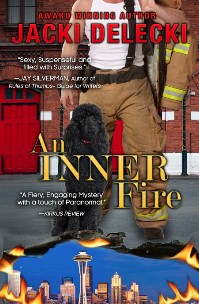 Grayce Walters' left hand twitched. Her universe spun on an altered axis. Her instincts swirled. Her intuition flared.
Earlier today, a cranky feline had gouged her, a sneaky dog had nipped her, and now, late for dinner with friends, the parking gods were messing with her. Something was coming. Something strange.
Her headlights probed the mist, dissolving in the murk of Puget Sound fog. Her intuition acted like an inner GPS, directing her to the far side of Seattle's Fisherman's Terminal. The beams shone on a yellow heap between stacks of crab traps. A dog lay on its side, barely visible in the shadow of a fishing shed.
Stepping out of her car, she inhaled the musky smell of salt water. A horn blared from the Ballard Bridge. Grayce jumped at the sudden sound. She grabbed a flashlight and moved into the mist toward the large canine.
She knelt on the damp cement next to the Golden Retriever. Relieved to observe the dog's shallow respirations, she released a slow breath Baxter was written in bold script on the dog's red leather collar.
She gently ran her hand along Baxter's inert body. Her cold fingers probed the crown of his head, locating an egg-sized lump on the back of his skull.
"Your head hurting, Baxter?"
The large retriever wagged his tail ever so slightly and then stilled.
Grayce scanned the cluster of corrugated fishing sheds. A deep foreboding flooded her senses. "Baxter, I need to get us away from here."
She searched the waterfront, looking for the perpetrator of Baxter's injury. The overhead lights on the docks cast an eerie halo on the boats bobbing in the black water.
Screeching hinges broke the silence. The sound raked her skin like dogs' nails skittering across the metal exam tables in vet school. Her nervous system ratcheted into high alert.
Grayce Walters, animal acupuncturist, harbors a secret. She hides her intuitive gifts from the world until she becomes embroiled in arson on Seattle's waterfront.
As a key crime witness, Grayce must convince the attractive, logical, by-the-numbers fire investigator, Ewan Davis that the fire she witnessed is part of a larger criminal conspiracy. Grayce embarks upon a mission to gather proof of the dangerous threat. She enlists the help of her cross-dressing best friend, her street-wise assistant, and Davis' poodle, to conduct her own investigation.
As her feelings for Davis shift between white hot passion and cold fear, Grayce must risk exposing her secrets to save Davis' life. Davis must accept things, he can neither see, nor understand to solve the mystery and finally find the love he has stopped believing in.
With nudges from the protective poodle, Grayce and Davis confront shocking betrayal and international crime on the rain soaked streets of Seattle.
Buy Links:
Author Bio:
Descended from a long line of storytellers, Jacki spins adventures filled with mystery, healing and romance.
Jacki's love affair with the arts began at a young age and inspired her to train as a jazz singer and dancer. She has performed many acting roles with Seattle Opera Company and Pacific Northwest Ballet.
Jacki has set An Inner Fire in Seattle, her long-time home. The city's unique and colorful locations are a backdrop for her romantic mystery.
Although writing now fills much of her day, she continues to volunteer for Seattle's Ballet and Opera Companies and leads children's tours of Pike Street Market. Her volunteer work with Seattle's homeless shelters influenced one of her main characters in An Inner Fire.
Jacki's two Golden Labs, Gus and Talley, are her constant companions. Their years of devotion and intuition inspired her to write dogs as main characters alongside her strong heroines.
A geek at heart, Jacki loves superhero movies-- a hero's battle against insurmountable odds. But her heroines don't have to wear a unitard to fight injustice and battle for the underdog.
To learn more about Jacki and her books and to be the first to hear about contests and giveaways join her newsletter found on her website: www.jackidelecki.com. Follow her on FB—Jacki Delecki; Twitter @jackidelecki.
Giveaway:
I will be giving away a $25 gift card to Amazon and ebook of An Inner Fire in the next two days.
Giveaway ends 11:59pm EST Nov. 21st. Please supply your email in the post. You may use spaces or full text for security. (ex. jsmith at gmail dot com) If you do not wish to supply your email, or have trouble posting, please email maureen@JustRomanticSuspense.com with a subject title of JRS GIVEAWAY to be entered in the current giveaway.