I used to write contemporary romances and a lot of people ask what made me start writing paranormal romantic suspense like the books in THE CALLING/REBORN series which is so dark and edgy.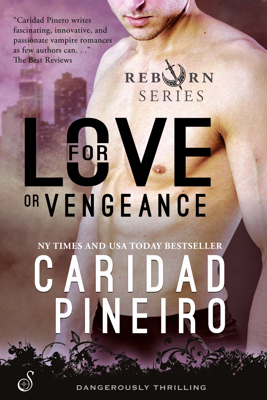 It kind of started while I was writing those contemporary romance novels. I had a heroine – FBI Agent Diana Reyes – start screaming in my head and I actually took time away from a deadline to write a chapter or two with her in it.
I went back to work on the contemporary romance and then 9-11 happened.
On that bright and beautiful September day, I knew I was forever changed.
For weeks after 9-11, I could not write much less think about anything. Every day was too emotionally wrenching as hope faded and the faces of the dead stared at me from the posters on the lamp posts and walls of New York City.
Diana Reyes started screaming in my head again.
In some ways, I am more like Diana than any of my other characters. I understand her abyss because I'd been in that darkness after 9-11. Because it lives inside of me still.
I also understand Diana's need for justice and her belief that someone needs to stand up for the dead.
THE CALLING/REBORN series is just about that: making sure that the dead have justice and that the living are protected from the violence of both the human and demon worlds in New York City.
It's why I started writing romantic suspense – to have good triumph over evil and to have the hero and heroine have a happily-ever-after along the way.

That romance part is important to me as well because after all the blood and kicking butt, I want my hero and heroine to come home and be able to have peace and love.
In FOR LOVE OR VENGEANCE, you'll see Diana Reyes again in a cameo role before she comes back in the other REBORN novels this year (October, November, and December!). But the heroes in FOR LOVE OR VENGEANCE are a unique pair. Sexy FBI Agent Miguel Sanchez and his partner, Helene Alexander, who is not what she appears. She's actually Nemesis, the Goddess of Vengeance, and a hard nut who needs to learn the difference between justice and vengeance.
FBI Special Agent Helene Alexander is a goddess. An actual frickin' goddess. And her mission is clear, see that justice is served at all times or her days as a goddess are numbered.
Helene's new FBI partner defines good-looking, but Miguel Sanchez, wants nothing to do with her ends-justify-the-means attitude. He knows through experience the type of guilt her actions can bring and Miguel wants nothing to do with Helene's careless ways. Even if she's so damned hot she makes him burn with the need.
When the serial killer they're tracking strikes again, Helene and Miguel are drawn into a case that will challenge their most fundamental beliefs about justice and vengeance. But it's the passion between them that forces a goddess to choose: eternal life with all her powers...or death—to save the man she loves.
Here's a short excerpt for you!
"My job was to protect her," he finally said through a tightness in his chest that threatened to strangle him.
To his shock, she reached up and cradled the side of his face. Her palm was smooth. So smooth. So warm and…comforting. He had never expected that a woman as hard as Helene could offer comfort, but there it was, adding yet another intriguing layer to his partner. That sensation coursed through him, freeing up the tension in his chest so he could breathe again.
"It was her time. Nothing you did could have changed that," she said with absolute certainty.
Her words resonated within him, bringing unexpected peace as if she were a priest who had just granted him absolution.
He brushed his hand against the thick waves of her hair and urged them away from her cheek. Then he dug his fingers into their softness, cupped her jaw, and tracked his thumb along the edge of her mouth.
"Thank you," he said, at a loss to find any other words to express what he was feeling. Knowing in his gut that there was only one thing that might.
He leaned forward until her warm breath spilled against his lips. Her gaze filled with part surprise and part anticipation. A heartbeat later, he allowed insanity to take over.
Helene's breath became trapped in her chest as Miguel closed the distance between them and covered her mouth with his.
Craziness, she thought for a millisecond before all that he was—all that goodness and honor and sexiness—made her lose her head. Her supposedly more powerful refined goddess senses didn't stand a chance against the wonder of his kiss.
He moved lightly against her mouth, an invitation rather than a command, as if knowing the latter would have been refused. Tentatively she accepted, meeting the sweep of his lips and deepening the contact. She opened her mouth to taste him and permit his exploration as he eased the tip of his tongue in to graze hers.
She moaned with need and the unexpected desire he aroused. The sound was loud in the quiet of the room. So loud it awakened them from whatever insanity had possessed them, breaking them apart.
They were both breathing heavily as she stood there, her fists clenched against the desire to reach for him again.
Someone walking in might have assumed they were fighting. And maybe they were. She was definitely fighting—for control.
He spoke first. "I'm sorry, Helene. That was out of line."
"No need to apologize. We're both adults and desire is a natural thing," she said, attempting to downplay her fear that it had been much more than passion that had brought them together.
It worked. Miguel wasn't the kind of man who indulged in desire just for desire's sake. That would be too shallow. His lips—those mobile, engaging lips that had only seconds before brought her such pleasure—became a pencil-thin line.
"It won't happen again," he said, and before she could utter another word, he stalked from the room.
Thank you for taking the time to visit with me! For more information on me and FOR LOVE OR VENGEANCE, please visit one of these links: