Congratulations to "Mary P.", the winner of Allison's giveaway. Thank you to all who participated!
All the good writing books talk about "goals, motivation and conflict" in fiction. What does the character want, why does the character want it, and why can't the character have it.
To me, goals and conflict are the easier parts of the equation. Especially in romantic suspense where one of the goals is always to solve a crime or stop a bad guy. Of course there are other goals, but it's always easier when you have the big one taken care of. And conflict is also easier in crime fiction, at least in my opinion.
Motivation, on the other hand, is often neglected or glossed over. And to me, motivation is what makes characters real. Strong, believable motivation is what makes a good book great.
I think a lot about motivation when I write because motivation can change sentiment about a character from love to hate, from respect to despise. Motivation can be small, such as taking a job we dislike because we have to pay the mortgage; or large, such as taking a job to undercover unethical or illegal business practice, maybe because those illegal practices cost a loved one their life.
Consider a thief. On the surface, we don't like thieves. They steal other people's stuff for their own personal gain, often causing hardship for the victim. I'm sure many of us have been robbed, either something small (car radio—I've had three stolen in my lifetime) or large (our identity, for example, or every valuable item in our home. My credit card number has been taken I don't know how many times, at least five, and while I file all the papers and get my money back through the bank's fraud unit, think of the additional costs we all pay in higher fees because of the greed of others.)
But what if the thief was trying to right a wrong? Taking from a bad guy to give to the good guys? (Robin Hood anyone?) Or what if the thief needed the money to pay for his daughter's operation? Or to steal a weapon that fell into the wrong hands? The act may in and of itself be wrong, and the character may need to face punishment for his crimes, but if we want readers to like the character, then we need to give them a motivation that readers understand and relate to. Especially if the character doing the bad thing is your hero or heroine.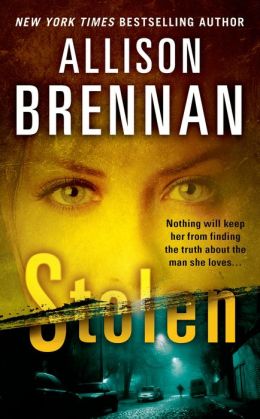 I thought a lot about motivation while writing STOLEN. STOLEN is the sixth book in my Lucy Kincaid series, which follows FBI recruit Lucy and her P.I. boyfriend Sean Rogan. STOLEN is really Sean's story, as his past comes back to bite him in the ass. Sean doesn't have a squeaky clean past, but he's always managed to wiggle out of trouble. He was a hacker and a thief, so I had to make sure that why he was committing these crimes in college was believable. It wasn't the crime itself, or even who he stole from, but the impetus of his actions. Why he went down that path in the first place had to do with being vilified by the FBI and his brother when he hacked into his college system and exposed a pedophile. Like Tony Stark of IRONMAN fame, Sean exposed his professor boldly and without remorse and made a lot of enemies in the process.
That act, and the reaction of his college, his brother, and the FBI, sent Sean down a precarious path in college. To me, it gave him the motivation he needed to cross lines that maybe he shouldn't have crossed.
Motivation for villains is just as important. I don't like stereotypical villains who kill for the sake of killing, or rape blondes because his prostitute mother was a blonde. I want meat to their motivation – even if I don't agree with it. Why do they do what they do? Are they conflicted? Why? Do they have remorse or are they a true sociopath? How do they justify their actions? I often give a workshop called the Villain's Journey taken from a line in Christopher Vogler's The Writers Journey: "The villain is the hero of his own journey."
Yes, yes, yes. And because of that, I know that the villain's motivation is just as important as any other character – in fact, more important because they are the foundation of any suspense novel. A good villain makes the story. As Vogler said, the villain must be worthy of the hero – and likewise, the hero must be worthy of the villain. This is why epic stories like THE AVENGERS and IRON MAN 3 and STAR TREK all have such compelling villains. Take Kahn in the STAR TREK. He was created to be the perfect soldier. He was created to fight. Everything he did was to save his brothers and sisters. He didn't have compassion or remorse for what he did; he did it because he felt his cause was just. He's smarter, stronger, more driven than anyone else. In THE AVENGERS, Loki was the spoiled, jealous illegitimate brother of Thor. He's, essentially, having a temper tantrum, but he does it with power and humor and, again, intelligence.
Stupid villains are no fun.
I could write an entire series of blogs on THE FOLLOWING, the television show starring Kevin Bacon and James Purefoy. The motivations of each character is pivotal to every decision they make. The writers truly understood the need for strong motivations, not just for their villains, but for their heroes. When you're dealing with a large cast, it's easy to ignore motivation for the secondary characters, but this show didn't skimp. It didn't only focus on Ryan Hardy and Joe Carroll—the writers gave each character a strong enough motivation to make them real.
And that's the key: if the motivation is real, the characters become real, too.
What are some strong motivations you've seen on television or read about in books? Weak motivations? Share your thoughts! I'm giving away one copy of STOLEN, digital or print, to a lucky commenter.
Giveaway ends 11:59pm EST June 4th. Please supply your email in the post. You may use spaces or full text for security. (ex. jsmith at gmail dot com) If you do not wish to supply your email, or have trouble posting, please email maureen@justromanticsuspense.com with a subject title of JRS GIVEAWAY to be entered in the current giveaway.