Congratulations to "Colleen C.", the winner of Kat's giveaway. Thank you to all who participated!
Of all the questions I'm asked, one of the easiest to answer is "How do you come up with your rugged heroes?"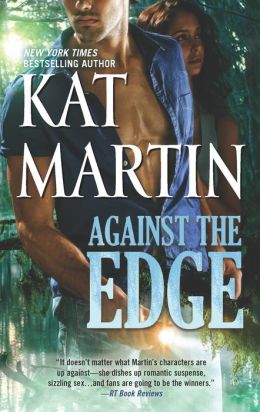 First let me say that I LOVE writing about macho men and the women who love them. Ben Slocum, the hero in AGAINST THE EDGE, is an ex-Navy SEAL turned private investigator. They don't get any tougher than Ben.
Which is good, because in order to find the missing son he didn't know he had, Ben is going to need all the strength and courage he has to keep himself, his son, and Claire Chastain, the social worker who comes to Ben for help, alive.
So where do I find a hero like Ben? Living as I do in rural Montana, rugged men still live there in abundance. The guys cut firewood for their only source of heat, a wood-burning stove. They work outside in subzero weather, hunt game for food, and break a hole in a frozen lake to fish.
A number of them are cowboys. They aren't afraid of hard work and they have great moral values.
Since there are few females in the Martin family and my husband has three grown sons, I'm around guys like these every day. And of course, I'm married to one. He's retired now and spends most of his time writing, but even today, he wouldn't back away from a fight as long as he believed he was in the right.
Two of my stepsons are outdoorsmen and love every minute of the rugged lives they live. The other is a former Marine.
It's handy to know the kind of tough men I write about, but if you happen to live in a city, or just aren't around guys like that, try watching the military channel, or reading books written by former special operations soldiers. Romance novels with tough, action heroes are great inspiration and tons of fun to read.
Traveling helps. Small-town America is full of guys who still believe that right is right, men are men, and women are worth protecting.
Currently, I'm finishing AGAINST THE MARK, a book about a Texas country boy who works in the city. He brings all his toughness and the good values he's learned in Texas to L.A.
In the meantime, I hope you'll watch for Ben Slocum and Claire Chastain in AGAINST THE EDGE. And at the end of August, look for Ty Brodie in AGAINST THE MARK.
Love to know some of your favorite rugged heroes.
Till next time, all best wishes and happy reading. Kat
**Kat will be giving away an autographed copy of AGAINST THE EDGE to one lucky commenter.
A danger he's never known.
That he's a father is news former navy SEAL Ben Slocum was not expecting. But once the initial shock wears off for the confirmed bachelor, he takes in the rest of what social worker Claire Chastain tells him: that his son Sam is in the custody of an abusive criminal, that they've disappeared . . . and that Ben is now the child's only hope.
As Ben and Claire band together to track the two down, their concern for the boy draws them closer, each fighting feelings there's no time to explore. Ben's got one chance to take back what's his, and in one gunshot he could lose it all . . .
Giveaway ends 11:59pm EST May 1st. Please supply your email in the post. You may use spaces or full text for security. (ex. jsmith at gmail dot com) If you do not wish to supply your email, or have trouble posting, please email maureen@justromanticsuspense.com with a subject title of JRS GIVEAWAY to be entered in the current giveaway. US and CANADA postal addresses only.