Congratulations to "Christine B." the winner in Kat's giveaway. Thank you to all who participated!
One of the best ways to make your story believable is to use real places to locate the action and the real names of restaurants and streets. Actually going there, of course, is the best way to make that happen. Or using places you went to at some other time in your life.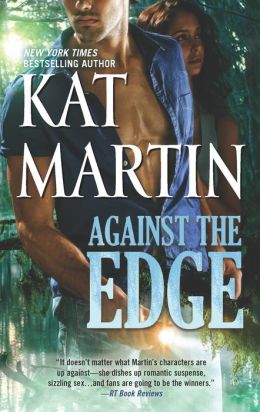 In AGAINST THE EDGE, the hero, Ben Slocum, who also appeared in AGAINST THE SUN and AGAINST THE ODDS, lives and works in Houston. Originally, I chose that location because my husband and I lived in Houston for several months. I got to know my way around, know the restaurants and shopping, became familiar with the atmosphere of the city. Which is amazingly small-town, considering the population.
I felt comfortable there and when I spread open my AAA Auto Club map back in Montana and started to write, the street names were all familiar, the parks and airports, stirring memories of places we had been.
I truly believe there are locations you can't write about without being there. For me that was Europe. Until I actually traveled overseas, I couldn't image cities and towns that went that far back in time.
Paris, London, Amsterdam, and the rural communities in European countries are the sorts of places you really need to visit in order to understand the way people in those areas live. China, Russia, India--places I've never been--have personalities of their own and seeing them is about the only way you can get it.
Another possibility is to choose an area that fits your story and you can relate to. Any of the mountain states are easy for me since I live in Montana. I'm in Los Angeles a lot, thus my next book, AGAINST THE MARK, Ty Brodie's story, uses that setting.
By the way, one of an author's greatest tools is Google Earth. In AGAINST THE EDGE, when Ben and Claire travel from Los Angeles to the bayou county of Louisiana, being able to go there over the Internet, to actually zoom down into the swamp, was incredible.
So make your story as real as you can and the reader will feel that reality. I hope you'll watch for AGAINST THE EDGE and that you enjoy. All best wishes and happy reading, Kat
p.s. What novels have you read that seemed so real?
Kat will be giving away an autographed copy of AGAINST THE EDGE to one lucky email or comment entry.
A child he's never met.
A danger he's never known.
That he's a father is news former navy SEAL Ben Slocum was not expecting. But once the initial shock wears off for the confirmed bachelor, he takes in the rest of what social worker Claire Chastain tells him: that his son Sam is in the custody of an abusive criminal, that they've disappeared . . . and that Ben is now the child's only hope.
As Ben and Claire band together to track the two down, their concern for the boy draws them closer, each fighting feelings there's no time to explore. Ben's got one chance to take back what's his, and in one gunshot he could lose it all . . .
Giveaway ends 11:59pm EST May 8th. Please supply your email in the post. You may use spaces or full text for security. (ex. jsmith at gmail dot com) If you do not wish to supply your email, or have trouble posting, please email maureen@justromanticsuspense.com with a subject title of JRS GIVEAWAY to be entered in the current giveaway. US and CANADA postal addresses only.