Congratulations to "Cinette", the winner of Alison's giveaway. Thank you to all who participated!
Recently, I attended a safety assembly with my eight-year-old daughter. She's the youngest of four, so this wasn't my first time at the rodeo. Despite the constant reminders, children still often describe a stranger as someone who is "mean looking" or "ugly." Some kids go into great detail listing the attributes of a mean-looking person. It's hard not to smile, but the reality isn't funny. Kids need to be constantly reminded that a stranger is anyone they don't know. They don't have to look mean or scary.
But all too often the news reminds us that sometimes the danger comes from someone we do know. The "stranger" among us.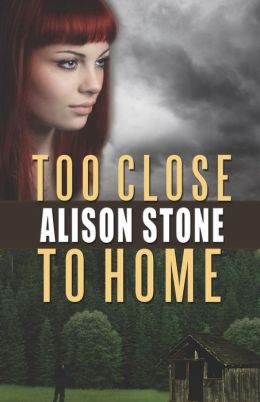 This makes me think of a well-known criminal case in Western New York. Over the past several decades, a bike path rapist turned murderer terrorized the community. A few years ago, after lying dormant for over a decade, he struck again. Through meticulous police work, he was finally caught. The victims did not know their attacker, but as it turns out, this monster lived in my old neighborhood. His children went to the same grammar school (years after me.) He helped coach basketball in the gymnasium where I played dodge ball as a kid. He "prayed" in church where I was baptized and later married.
News reporters interviewed neighbors who couldn't believe that friendly Al had raped and killed all these women. His wife of twenty-plus years was devastated. She had no idea. Neither did his two sons.
Other chatter emerged. A few mothers in the community got a strange vibe from the creep…. Hindsight is twenty-twenty.
But all the while, this man raised a family, worked the night shift, socialized…and raped and killed.*
It makes you stop and wonder what your neighbor is really like. Stranger danger. Or the stranger among us?
As an author of romantic suspense, I like writing the villain who is the guy living next door…or down the street. To me, that's far scarier than the deranged psycho whom everyone suspected would end up on a Most Wanted Poster.
My debut novel, Random Acts, originally released in eBook format last year, has been released this month in print. RT Book Reviews gave it 4 stars and wrote, "Romantic suspense fans, hold onto your hats because Stone evokes a whirlwind of emotions from the moment her book begins. This engaging story with a tough-as-nails heroine kicks off with a mystery readers will want to sink their teeth into…"
What is your favorite kind of villain in romantic suspense? I'd like to hear from you in the comments section. One lucky person who comments will win an eBook copy from Amazon or Barnes and Noble (winner's choice) of my book, Too Close to Home.
BLURB for Random Acts:
Second chances can have a terrible sense of timing.
As a child, watching her mother always pick the wrong man left Danielle Carson wary of opening her heart to anyone—except Patrick Kingsley. But circumstances came between them and left Danielle with a broken heart. Now she buries the pain of what might have been by channeling all her energy into her career. When a family crisis brings her back to her hometown, she is forced to face the past—and the disturbing fact that her sister's car accident was staged to mask a brutal beating.
A police officer and widower, Patrick guards his heart as fiercely as he guards his beloved daughter. Seeing Danielle again unexpectedly reignites their old flame, but no way will he introduce a woman into his daughter's life. Certainly not one whose values on faith and family are so different from his own.
Despite their best intentions, they are drawn together—until Danielle learns Patrick had a hand in putting her sister in harm's way. Her fragile trust is crushed, but Patrick is the only man who can help her stop the villain before everything they both love is destroyed. Faith, family…and their second chance at forever.
ALISON STONE writes romantic suspense for Harlequin Love Inspired Suspense and Samhain Publishing. Her debut novel, Random Acts, was a finalist for the prestigious Daphne du Maurier Award in the unpublished inspirational category. Alison lives in Western New York with her husband of over twenty years and their four children where the summers are absolutely gorgeous and the winters are perfect for curling up with a good book—or writing one. Besides writing, Alison keeps busy volunteering at her children's schools, driving her girls to dance, and watching her boys race motocross.
Website:www.AlisonStone.com.
Twitter: https://twitter.com/Alison_Stone or @Alison_Stone
Facebook: https://www.facebook.com/AlisonStoneAuthor
Blog: http://alisonstone.wordpress.com/
*If you're interested in reading more about the events in this blog post, check out The Bike Path Killer by Michael Beebe and Maki Becker.
Giveaway ends 11:59pm EST March 10th. Please supply your email in the post. You may use spaces or full text for security. (ex. jsmith at gmail dot com) If you do not wish to supply your email, or have trouble posting, please email maureen@justromanticsuspense.com with a subject title of JRS GIVEAWAY to be entered in the current giveaway.