Hello all. We had an author that was unable to join us today, so you get...me. :) Actually, I wanted to take this time to thank everyone for their kind words and support over my mother's passing. She was a big supporter of the Romantic Suspense genre, and without her influence I probably wouldn't have been such a fan of the genre, or a storyteller for that matter.
When I was a child, Mom had this lantern hanging from a chain above her bed (yes, she was a product of the 60's). We would sit on the bed and she would spin that lantern and start to make up a story. When the lantern stopped, it was my turn to spin it, and also my turn to pick up the story-line. We would go back and forth like that until the tale was complete, or I threw up from all that spinning. :)
Mom also taught me the power of observation. While watching TV, during the commercials she quizzed me on things in the background of the show we were watching. What was the painting hanging over the couch? What was the color of the rug? How many framed photos were on the fireplace? These are skills I find I still tap into while I'm watching TV. There is a show on FX called The Americans, which takes place in the 80's. I commend them on how accurate every item is on the set. After all, who didn't have a gold or olive refrigerator and stove back then! I noticed last night that even the model of Bic pen that she was writing with dated back to that era.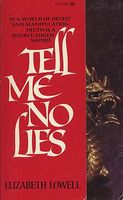 As a youngster, I began writing with my literary masterpiece, Super Watermelon Man. By 7th grade I had written a 60-page thriller about aliens landing on a beach in Scotland. LOL! After that, I evolved into the horror genre with some equally ridiculous plot. In high school I started to dabble in romance, and then one day Mom hands me, TELL ME NO LIES by Elizabeth Lowell. That was it for me. The great writer from above came down and stamped my forehead with a big Romantic Suspense label. My first attempt to write romantic suspense even yielded me a Golden Heart nomination in the category.
Mom's book cabinet was stocked with many of the authors on JUST ROMANTIC SUSPENSE. Carla, she loved Saint's Gate! I know that lately, she was reading SCORCHED by Laura Griffin. She loved all the blogs here, but she was a voyeur...always too shy to post a comment.
As readers or writers have you ever been influenced by a relative in your genre of choice?