Congratulations to Janet K., Anna, and Brenda R., the winners in Karen's giveaway. Thank you all for participating!
Although I have written romantic suspense novels set in a great variety of places, I have loved doing eight books set in Amish country. Besides the gorgeous rural scenery and fascinating look at the unique Amish culture, I think the success of these books lies in the fact that the two main romantic leads—who have to solve a deadly crime together—come from different worlds. When an Amish person, usually the woman, falls in love with a "worldly" man, the sparks really fly and the stakes are high. Ah, there is nothing better to spice things up than forbidden love.
Why forbidden? Because for an Amish woman to commit to her love for a non-Amish (They call them English) man means she will be an outcast. The Amish reserve shunning for a church member who breaks their rules. Shunning means being exiled from friends and family. The Amish will not even receive a gift from the one who has been shunned. They see this as a way to keep people in their flock by showing them how it feels to be an outcast. Once the person is restored, the Plain People welcome them back with open arms.
On the other hand, a worldly person who falls for an Amish person, if they want to marry, must become Amish and shun the world. This means trading a car for a horse and buggy. No more electricity, cell phones—you name it. But as Alex Caldwell discovers in FINDING MERCY, his love for Ella Lantz, an Amish woman, is well worth the price of giving up some of what modern people consider necessities. Besides, there are many benefits of Amish life: strong families and faith, closeness to nature, less stress.
FINDING MERCY is book #3 in THE HOME VALLEY AMISH TRILOGY, although the books can stand alone. (Books #1 and #2 are FALL FROM PRIDE and RETURN TO GRACE. ) In each of these novels, an Amish woman and worldly man are thrown together to solve a crime and stay alive, and that blends 'romance' and 'suspense' into an exciting book.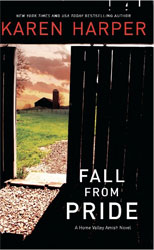 The review from Booklist on FALL FROM PRIDE caught onto the strength of these two elements being blended: "Harper, a master of suspense, keeps readers guessing about crime and love until the very end." The RT Book Reviews comments on FINDING MERCY: "…a pulse-pounding, man-and-woman-on-the-run adventure. You won't be disappointed in the ride!" (RT Top Pick)
I think that emotional roller coaster is the result of combining romance and suspense, especially in settings which make the growing love between the hero and heroine forbidden. They can't help their attraction to each other despite the taboos and dangers—and, hopefully, readers can resist the book which reveals their forbidden love. I'm giving away 3 copies of FINDING MERCY for readers of Maureen's great rom/sus website.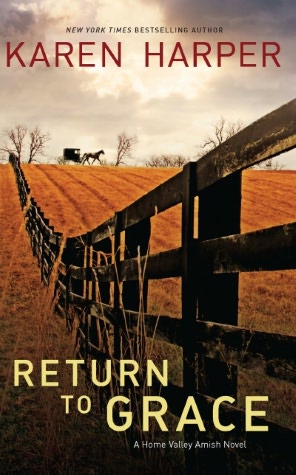 New York Times
bestselling author Karen Harper also writes historical novels set in Tudor England. She is the winner of the Mary Higgins Clark Award for her Amish rom/sus DARK ANGEL. She lives in Ohio and Florida. Please visit her website at www.KarenHarperAuthor.com
Giveaway ends 11:59pm EST Nov. 11th. Please supply your email in the post. You may use spaces or full text for security. (ex. jsmith at gmail dot com) If you do not wish to supply your email, or have trouble posting, please email maureen@justromanticsuspense.com with a subject title of JRS GIVEAWAY to be entered in the current giveaway.