What I like most about being married is that I sure picked the right guy. First - he cooks!!!! I was raised in a boarding school where the kitchen was "cloister" so my cooking skills are poor. (When we first got married, I wasn't sure what the difference was between "bake" and "broil" in the oven, so I broiled the TV dinner. It was half frozen. But he never complained.
However, he decided he was a better cook. And he is.
Everything we do, including our writing, seems to showcase the fact that we're two very different people, but it's our ability to pull those differences together and make it work that has made our series so strong! I'm more about who the characters are, what makes them tick, where did they come from, what goals do they have for the future. He's more about action. What happens to whom and when.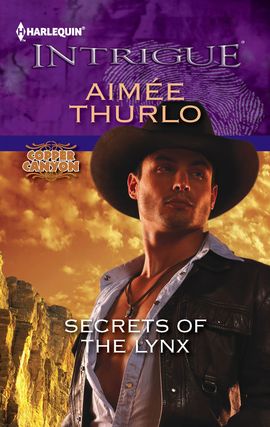 Our collaboration really comes to the forefront in a romantic suspense novel like Secrets of the Lynx.
Click here for a link to an excerpt.
Amazon.com: Secrets of the Lynx (Harlequin Intrigue Series)
Hosteen (Mister) Silver, a Navajo medicine man, fostered Paul Greyhorse, the hero of our novel. It was through Hosteen Silver that Paul learned to respect things that can't always be explained through logic.
Paul and each of his brothers received a very special gift when they turned sixteen - the fetish of an animal. According to tradition, a fetish is more than just a carving. It's a symbol that is said to capture the essence of the animal and impart those qualities to its owner. Lynx knows what others try to keep secret, and sees what's not readily apparent.
Yet the real magic of the story unfolds as the hero and heroine, two emotionally damaged people, come together and realize that they're stronger together than they are apart - like it is with David and me.
I have to admit that I especially like Paul Grayhorse. He's a hero among heroes. He doesn't judge others, though they often judge him. For example, when he questions several streetwalkers, he treats them with great respect. He understands that somewhere in there is a woman who dreamed of bigger and better things - but took a detour. That a "Pretty Woman" (movie with Julia Roberts) is there, just beyond what the eye can readily see.
Romantic Times said, "Thurlo understands the mindset of The People and uses the beautiful legends and myths that define them to add depth to this action packed tale."
I hope you'll have a chance to pick it up!
For a signed bookmark please send one stamp to:
Aimée and David Thurlo
P.O. Box 2747
Corrales, NM 87048
We'll take care of the rest!
Happy reading, and may you always walk with beauty before you,
Aimée and David