Congratulations to "LS" the winner of Rita's giveaway. Thank you to all who participated!
I recently saw a call from a publisher for New Adult books. New Adult being described as college age to mid-twenties. A brilliant move I thought, as it will scoop up the previous YA readers who have aged.
But, what about those of us who are not New Adults? We're aging also. Is there going to be a Not So New Adult category soon? I feel like the only way an over 40 reader will connect with a story about a college freshmen is if they have one of their own.
Don't misunderstand, I am all for YA or New Adult books and anything that will keep our young people reading. And truth be told I have been known to read some YA. But, I prefer to read about extraordinary women and the men they love. For me that means women with a high level of experience and competency. A gal, no matter how smart and competent, in her early twenties doesn't always fill the bill for me.
Consider these reader statistics given recently by Charles Osgood on CBS Sunday Morning. He reported the average age of readers is 44. The majority of book buyers are over 50 and 58% percent of those buyers are women. The vast majority of what those women buy is romance. Alrighty then.
I read about Carmen Dell'Odrefice, an 81, yes 81, year old model who took to the catwalk twice at the New York Fashion week last month.
http://www.dailymail.co.uk/femail/article-2201264/Worlds-oldest-supermodel-Carmen-dell-Orefice-81-takes-catwalk-twice-day-New-York-Fashion-Week.html.
I found scores of notables over 45. None were considered old. Do any of you consider the three Jennifers, Lopez, Aniston, and Garner, old because they are over 40? I'm wondering why aren't the heroines in our books aging also.
I believe we are on the cusp of a change in what is considered old. One of the main reasons for the change is, the media is aging. Diane Sawyer is 66. Katie Couric is in her 50s. The media controls what we see. How can they call our notables and celebrities old when they are the same age?
I write books about competent heroines. They are strong, opinionated, stubborn, and can handle themselves. They know what they want and go after it. Not Alpha women, extraordinary women who suffer from flaws, misguided beliefs, and fears like the rest of us. They work hard to hide and overcome weakness, grow, change, and love.
In my first book, Under Fire, the heroine is 36, a Coast Guard Helicopter pilot who takes on the man who killed her brother.
My new book, Under Fire: TheAdmiral, starts with a plane crash in Ecuador and ends in Paris. The heroine is over 45. She is a competent, kick ass, Coast Guard admiral, totally in control of everything except her emotions when it comes to a younger man.
My heroines don't look for trouble, but if it comes knocking they stand their ground. They don't need to be rescued by the hero. More often as not, they rescue the hero. My heroes are alpha males. Strong men who are comfortable with who the heroine is and what she does. A man who has her back, stands shoulder to shoulder with her and knows how she wants to be loved.
Can you see your life ending because you've reached a certain age? Do you think you will slip into a kind of narcolepsy of life when you reach a certain age?
Bottom line. Authors age. Readers age. Characters in series age.
Tell me the books you like that have older heroes and heroines. And please, can anyone come up with a better word than older?

Rita will be giving away a digital copy of UNDER FIRE: THE ADMIRAL to one lucky commenter.


R

ita grew up on Florida's east coast. She married a Marine and feels fortunate to have lived many places and traveled to the states and countries she didn't live. She writes about extraordinary women and the men they love weaving her experiences into contemporary women's fiction and suspense thrillers.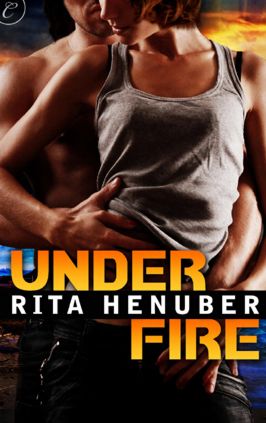 Get to know her on facebook and twitter @ritahenuber
Where to find Rita's books.
Giveaway ends 11:59pm EST Oct. 16th. Please supply your email in the post. You may use spaces or full text for security. (ex. jsmith at gmail dot com) If you do not wish to supply your email, or have trouble posting, please email maureen@justromanticsuspense.com with a subject title of JRS GIVEAWAY to be entered in the current giveaway.