Congratulations to "Judi L" and "Allison G.", the winners of Norah's giveaway. Thank you to all who participated!
When I sat down to write a story with a cowboy hero, I did it out of sheer frustration. I'd written lots of romantic suspenses with my beloved police detective heroes, but hadn't been able to sell a single one to a New York publisher. So I quite cynically set out to write a cowboy hero, because cowboys were reputed to sell. Because I didn't think my cowboy was going to be enough to keep me interested, I threw in a paranormal element (psychic heroine). Fortunately, I have always loved horses, so that helped make the prospect more palatable.
But a funny thing happened on the way to "The End". As I got deeper into the research, I fell in love with my subject – with cowboys and with my hero in particular. I wanted him to be an ex professional bull rider turned rancher, so I found PBR (Professional Bull Riders) competitions on television and started watching. Oh. My. God! I was fascinated! Those enormous bulls would send most sane people running, but these guy climb on top of them, pull their bull rope to their satisfaction and nod for the gate. And when they stick on that bull for the requisite 8 seconds, they're just incandescent with joy. (Or maybe that's just what an adrenaline high looks like!)
Need convincing? Here's a clip of my favorite bull rider, Brazilian Adriano Moraes, riding to a win in the 2006 PBR World Championship, at the advanced age of 36. Then watch him climb up in the stands to share the moment with his family.
Naturally, I had to make sure my retired bull rider Cal Taggart got a chance to ride a bull in the course of the story. Let's just say my heroine Lauren Townsend, who is uninitiated to bull riding, is less thrilled with Cal's performance than Adriano's wife was in that clip!
Happily, my cowboy romantic suspense book sold – hopefully not just because cowboys sell. It finaled in the Romance Writes of America's Golden Heart
®
contest and went on to win Dorchester Publishing's New Voice in Romance contest. In 2004, it was published by Dorchester as Lauren's Eyes. Unfortunately, it didn't have a very genre-appropriate cover and didn't reach its target audience. Now, thanks to Montlake Romance, it is being reissued today as Every Breath She Takes, with what I think is a gorgeous cover.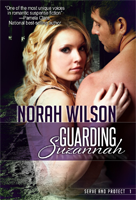 But here's a more immediate giveaway! Remember those romantic suspenses featuring police detectives I mentioned earlier? They are now published in my Serve and Protect Series. I'm happy to offer the 3-book omnibus electronic collection (MOBI or EPUB) to two winners. If a winner does not have an ereader or prefers print, I would be happy to substitute a print copy of Guarding Suzannah, the first book in the Serve and Protect series.
Giveaway ends 11:59pm EST Sep. 4th. Please supply your email in the post. You may use spaces or full text for security. (ex. jsmith at gmail dot com) If you do not wish to supply your email, or have trouble posting, please email maureen@justromanticsuspense.com with a subject title of JRS GIVEAWAY to be entered in the current giveaway.