Congratulations to "Ann Q" the winner of Kat's giveaway. Thank you to all who participated.
Kat Martin is traveling AGAINST THE SUN this week, as are a huge portion of our talented authors here at JUST ROMANTIC SUSPENSE. They are venturing to that yearly Mecca know as the Romance Writers of America Conference. For readers, it is a chance to mingle with your favorite authors. For writers, it is a chance to mingle with your favorite authors. :)
Here is your JRS host with Kat at last year's RWA. You will notice I've already got my mitts on one of her books!
To kick of her journey west to California, Kat wanted to host a giveaway!
Kat would like to know if you have ever attended a conference, and whether or not you enjoyed the experience. One lucky winner to answer will get their mitts on a copy of AGAINST THE SUN.
It's not in bodyguard Jake Cantrell's job description to share his suspicions with his assignments. Beautiful executive Sage Dumont may be in charge, but Jake's not on her payroll. As a former special forces marine, Jake trusts his gut, and it's telling him that there's something off about a shipment arriving at Marine Drilling International. His instinct is aroused...in more ways than one.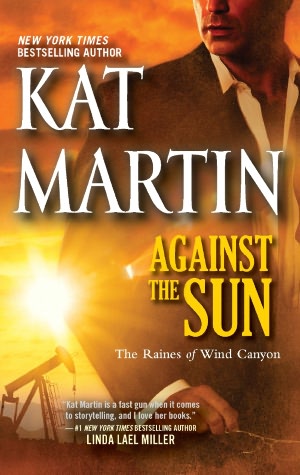 A savvy businesswoman, Sage knows better than to take some hired gun's "hunch" as gospel. And yet she is learning not to underestimate the man her grandfather hired to protect her. Determined to prove Jake wrong, Sage does some digging of her own and turns up deadly details she was never meant to see.
Drawn into a terrifying web of lies and deceit—and into feelings they can't afford to explore—what Jake and Sage uncover may be frighteningly worse than they ever imagined.
Excerpt:
Walking out of the elevator across the shiny black granite floor, Jake Cantrell made his way to the receptionist desk on the tenth floor of Marine Drilling International. The waiting area was done in black leather sofas and chairs, the receptionist desk dark walnut and chrome, nothing but the best for the Dumonts, the family who owned the company.
A good-looking woman, late twenties, wavy, shoulder-length mink-brown hair, busily searched the drawers and cabinets behind the desk, bending over in a tailored pencil shirt, providing him with a perfect view of a very shapely ass.
He almost smiled. Even the help was first class.
She jerked upright at his approach, noticing him for the first time, and her face colored, a pretty face, remarkable really, with amazing golden brown eyes. Those eyes looked him up and down, which took a while, being six-five, two-hundred thirty-five pounds.
"May I help you?" she asked.
He gave her a smile. "I'm Jake Cantrell. I've got an appointment at ten with Ian Dumont."
She frowned. "He didn't mention it. He's getting ready for a meeting. You might have to wait a while."
"Not a problem. In the meantime, I could sure use a cup of coffee."
Amusement tipped her mouth up, a tiny dimple appearing next to plump, rose-colored lips. "I'll see what I can do." But she didn't make a move, just turned to the woman hurrying toward her across the waiting room.
"I'm so sorry I'm late, Ms. Dumont," the woman said. "Thank you for covering for me."
Sonofabitch, a Dumont, Jake thought. Asking her to fetch him a cup of coffee was probably not the best idea he'd ever had.
And now for a short feature presentation!
If you are having troubles seeing this video, here is the direct link.
Giveaway ends 11:59pm EST July 24th. Please supply your email in the post. You may use spaces or full text for security. (ex. jsmith at gmail dot com) If you do not wish to supply your email, or have trouble posting, please email maureen@justromanticsuspense.com with a subject title of JRS GIVEAWAY to be entered in the current giveaway.