Congratulations to "Annie Q", the winner of Toni's giveaway. Thank you to all who participated!
Hi, and thanks for having me! I'm Toni LoTempio and I like to write romantic suspense, usually with a paranormal bent. This might be due to the fact I got hooked on horror movies at a VERY young age. My dad used to take me to them all the time. (Black Sunday starring Barbara Steele was the first) and, of course, I was a HUGE Dark Shadows fan growing up – I even ran a fan club for it in High School. I can't wait for the Johnny Depp remake!
But when it comes to romantic suspense, for me, no one can top JD Robb! People who know me know how ardent a fan I am of JD Robb and her "In Death" series, starring futuristic cop Eve Dallas and her super sexy husband, Roarke. The two are the epitome of opposite: Roarke likes fine wine and filet mignon, Eve salivates over Pepsi and pizza (the main reason she became attracted to Roarke was the first gift he sent her: freshly ground coffee) She wears an immense diamond pendant he gave her under her clothing at all times because touching it reminds her of him: he keeps a button that fell off an ill-fitting grey suit of hers in his pocket for the same reason. Sappy? At times yes, but these two are incredibly romantic and sexy – part of what makes them a "super-couple". Not that it's all moonlight and roses – the couple have their differences. But it is apparent throughout the series, that here is a couple, who, against all odds, is truly meant to be together – in every sense.
Eve Dallas works as a homicide detective for the NYPSD (stands for New York Police and Security Dept) and murder is her specialty. In the first book, NAKED IN DEATH, Eve falls for a prime suspect in her murder case, the handsome, sexy and enigmatic Roarke and even though it puts her career and the investigation at risk, they fall in love. Although becoming dependant on Roarke for emotional support is a foreign emotion to the heretofore loner Eve, she finds herself opening up to Roarke, as they both have similar skeletons in their closets. By the end of the third book, IMMORTAL IN DEATH, they are man and wife.
Thus begins one of the greatest husband/wife detective pairings since THE THIN MAN, IMHO.
Eve and Roarke are both tormented by their childhoods – she was abused and molested by her father, a seasoned criminal; Roarke grew up in Ireland, abused by his father, a petty thief who taught Roarke everything he knows.
Eve suffered from nightmares about her past before she married Roarke; afterward, with his help, she manages to come to grips with her past and finally realizes that she stabbed her father to death while he was raping her. Roarke' s unconditional love and trust helps Eve quell her demons, and, conversely, it works the same for him. While still involved in somewhat shady dealings in the first book, by book three Roarke has given it up to trod the straight and narrow, all in the name of love, as Eve, an honest cop, will brook no such nonsense from her mate.
Each adventure is finely crafted…the pacing is suberb, the plot is well thought out. My heart races each and every time I start one of her adventures! Suspense with a dash of humor and a dollop of mystery – who could ask for anything more?
Honest…when I grow up I want to be JD Robb…no, wait. Eve Dallas! Hey, that way I'd get Roarke, right?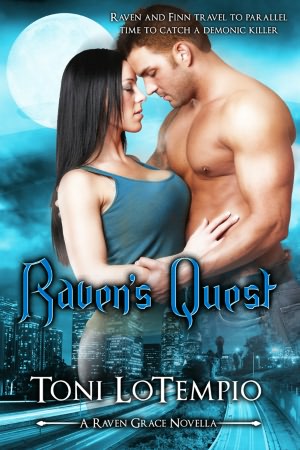 ***Toni will be offering a digital copy of RAVEN'S QUEST to one lucky commenter!***
Toni is the author of several paperback and e-books of romantic and paranormal suspense – check out her website at WWW.tonilotempio.webs.com and her cat's blog! www.catsbooksmorecats.blogspot.com Check out her YA fantasy, MY SUPERHERO SISTER and her paranormal romances, NO REST FOR THE WICCA and RAVEN'S KISS, as well as new releases DEMONS AND FIRE and RAVEN'S QUEST. She is also featured in the paranormal romance anthology, KISS ME KILL ME, available at Amazon and Barnes and Noble, as well as Every Witch Way but Wicked, sales of which benefit the charity Kids need to Read.
Giveaway ends 9pm EST March 19th. Please supply your email in the post. You may use spaces or full text for security. (ex. jsmith at gmail dot com) If you do not wish to supply your email, or have trouble posting, please email justromanticsuspense @ gmail.com with a subject title of JRS GIVEAWAY to be entered in the current giveaway.