Congratulations to Meaghan, Martha and Sandra, the winners of Karen's giveaway. Thank you to all who participated!
I believe in second chances—with our kids who make mistakes, with friends who let us down, and even with the man or woman we love who hurt us. My March release, RETURN TO GRACE, is a mystery/thriller and a love story with that in mind. It is set in Amish country, a peaceful, lovely place where crimes seem more terrible than in "worldly" society. Hannah Esh, the book's heroine, is torn between two loves and two worlds, the outside, modern one she's lived in and the Home Valley of her Amish family and the man she loves.
RETURN TO GRACE is the middle book in a trilogy, but each book can be read on its own. Hannah, who is the bishop's daughter, no less, has rebelled against her family and her people by going to the world to pursue a singing career. This radical move was triggered partly by her betrayal by rugged Seth Lantz, the Amish man she loved—and still loves.
In an act of defiance, when Hannah takes some of her goth friends back to the Amish graveyard for a Halloween "booze and boos" party, someone shoots at them from the darkness. One of her guests is killed, and she is injured. Since this is considered a hate crime on Amish soil, an FBI agent is called in, a handsome loner who wants Hannah to help him solve the murder. Could her former Amish fiancé Seth somehow be involved?
Torn between her love for Seth and her attraction to Linc Armstrong, the FBI agent, Hannah struggles to balance her past and her present. And when other bodies start to turn up and Hannah herself is threatened, who can she trust?
This is the seventh romantic suspense novel I've written set in Ohio Amish country. Not only does the charming place serve as a unique setting for suspense, but I love writing about forbidden love. An Amish man or woman is not permitted to fall in love with an outsider. But then, Hannah considers her hidden passion for Seth forbidden too, since he betrayed her. Despite her attraction to him, she could never forgive him and take him back—could she?
The clash of crime with the Amish belief in forgiveness makes for an emotionally wrenching story. Besides, the Amish don't trust most police, lawyers or government agents, so it's easy to write scenes in which the heroine must use her own resources to stay safe. Even if Amish lives are threatened, they cannot just use a cell phone to dial 9-1-1. No modern conveniences are allowed including land line phones and electricity. The world seems much darker at night when lit by a kerosene lantern. Horse and buggy travel often isolates the main characters, which can lead to especially desperate and terrifying situations.
The Amish have a saying, "It's not all cakes and pies." (I've also heard, "It's not all quilts and pies.") In other words, despite how idyllic it looks to us outsiders, living Amish presents dramatic problems. In each of my rom/sus Amish books, I've focused on this. The peaceful, lovely settings of big barns, tall corn fields, farmers' markets and rolling hills can provide some nightmare plots.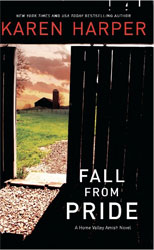 FALL FROM PRIDE, book #1 in this trilogy, has been available since last summer; RETURN TO GRACE is out this month, March 2012; and FINDING MERCY will be out in July 2012—ironically, the same month as an anthology of three novellas of Amish-set rom/sus for which I've written a story. My novella is THE COVERED BRIDGE in the book called DARK CROSSINGS. Two other Amish rom/sus writers, Marta Perry and Patricia Davids, have novellas in the book also.
I live just two hours from Holmes County, Ohio, the Amish area I use for my setting and inspiration. My husband and I love to go there for a few days at a time, meet the locals, do research and, oh, yes, buy furniture, quilted items and eat the fabulous country cooking! All of that I also weave into my novels.
I think Maureen, the creator of this great new website, is doing all of us a service to focus readers who love rom/sus on this genre. The suspense heightens the romance in these stories. I love writing these novels and intend to in the future. I hope I can live up to the encouraging review of FALL FROM PRIDE which appeared in Publishers Weekly: "Harper, a master of suspense, keeps readers guessing about crime and love until the very end, while detailed descriptions of the Amish community and the Ohio countryside add to the enjoyment of this thrilling tale."
Karen will be giving away a copy of RETURN TO GRACE to 3 lucky commenters.

Giveaway ends 9pm EST March 7th. Please supply your email in the post. You may use spaces or full text for security. (ex. jsmith at gmail dot com) If you do not wish to supply your email, or have trouble posting, please email justromanticsuspense @ gmail.com with a subject title of JRS GIVEAWAY to be entered in the current giveaway. This giveaway applies to US and CANADA mailing addresses only.