Congratulations to Amanda and Paula F., the winners of Carol's giveaway. Thank you to everyone who participated.
Code of the Justice Hunters
1. Thou shall not be personally involved.
2. Thou shall not reveal your identity to those you protect.
3. Thou shall not take vengeance.
4. Thou shall not forsake your fellow Hunters.
Justice Hunters. They will go to hell and back to aid law enforcement in the ever harrowing battle against crime.
I compete on a trivia team and one night there was a question about the comic series 'The Justice League'. After looking up the answer, I became intrigued and asked the 'why' question: Why not create a league of individuals, not super heroes, dedicated to justice?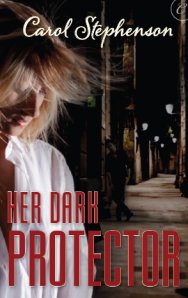 Thus was the genesis for my latest Carina Press HER DARK PROTECTOR and the Justice Alliance, a shadow society that for centuries has guarded justice and the rules of laws and followed its own code of conduct. Whenever chaos threatens to reign, the organization steps in. Calling themselves the' Justice Hunters', the members come from all segments, from pawn shop owners to world leaders, but most have something in common: they have lost a dear one to violence. As opposed to vigilantes, they strive to protect witnesses, find evidence and otherwise help to maintain order. They have eyes and ears everywhere from the courtrooms to the streets.
When justice calls for help, they'll answer.
In HER DARK PROTECTOR corruption has permeated the highest ranks of the local justice system in south Florida. Only Gail Malloy, a state attorney with a death wish, will risk everything to bring down a notorious drug lord. To avenge the deaths of his wife and unborn child, Justice Hunter Jason Hawke will do everything in his power to make sure Gail stays alive long enough to put the crime boss away for good. Even if it means keeping her with him day and night...
Do you love heroes and heroines who answer the call to danger no matter what the cost?
Bio: Award-winning author Carol Stephenson lives in southeast Florida with her beloved Shih Tzu. She's an attorney by day and author by night. She's best known for her emotionally drawn, hard-driving romances. In her free time she indulges in travel, photography and competing on a trivia team.
Buy Links for HER DARK PROTECTOR:
Giveaway ends 9pm EST March 27th. Please supply your email in the post. You may use spaces or full text for security. (ex. jsmith at gmail dot com) If you do not wish to supply your email, or have trouble posting, please email justromanticsuspense @ gmail.com with a subject title of JRS GIVEAWAY to be entered in the current giveaway.